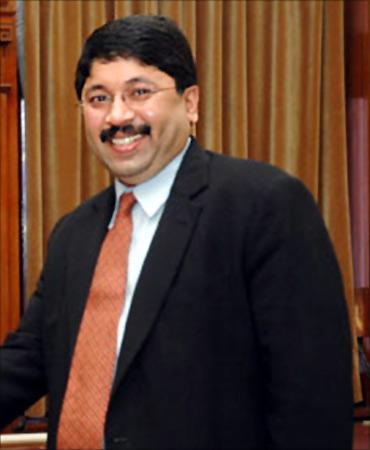 The Central Bureau of Investigation (CBI) has received "worthwhile" information from Malaysia in response to its letter rogatory sent last year and the investigating agency is likely to take action soon on the two-year-old Aircel-Maxis deal case, sources said.
The CBI had registered a case against former telecom minister Dayanidhi Maran, his brother MP Kalanithi Maran, Malaysian business tycoon and Maxis owner T Ananda Krishnan, and Maxis Director Ralph Marshall in October 2011. It had also named Sun Direct, Astro All Asia Networks, and Maxis as co-accused.
A senior CBI official told Business Standard the agency had enough information in the case, but it was hopeful of getting more evidence from the Malaysian authorities before finalising the chargesheet. The investigation agency's probe into the Aircel-Maxis deal also indicates that Maxis' investments in India breached the permissible limit of foreign direct investments in telecom.
The agency has also received information about an alleged money trail between Maran and Malaysian firm Maxis. Ananda Krishnan and the Maran family have known each other for long, it is believed. Aircel, denied a pan-India telecom licence earlier, was able to enter all circles after the Maxis takeover, C Sivasankaran, Aircel founder, had told CBI.
The information sought by CBI from Malaysia includes the details of transactions that took place from Maxis to Aircel and companies including Sun Direct. Following the deal, Astro, a part of Krishnan's media-telecom empire, had announced a $160-million investment in Sun Direct for a 20 per cent stake. Astro also raised its stake in Sun Direct to 35 per cent. Sun Direct is the direct-to-home arm of the Sun group, promoted by Kalanithi Maran, Dayanidhi Maran's brother.
Last month, CBI had told the Supreme Court there were "some difficulties" in the probe, since the investigation has escalated to foreign countries. A CBI team recently visited Malaysia to gather information regarding this case.
The apex court had given three months to the CBI to wind up its probe and submit a status report. The matter is likely to come up for hearing in the second week of July.
Meanwhile, the enforcement directorate, which is looking into the money laundering aspect of the case, is in the process of sending a fresh letter rogatory to Malaysia. It has received the required permissions and documentation for the same.
HOW IT ALL PANNED OUT
A look at how Maxis acquired Aircel and the CBI enquiry thereafter
Dec 31, 2005: Aircel sold to T Ananda Krishnan promoted Maxis Communications and Sindya Securities & Investments Pvt Ltd owned by Suneetha Reddy and husband P Dwarakanath Reddy. Suneetha is Apollo promoter Prathap Reddy's daughter
Dec 2006: Maxis gets licence for all circles
Apr 2007: Astro All Asia Networks, a Maxis group subsidiary, acquires 20% stake in Sun Direct for $166 million (Rs 599 crore)
Nov 2010: Astro further invests Rs 396 crore in Kalanithi's Kal Media Services, increases its stake in Sun Direct to 35 per cent
July 7, 2011: Maran resigns as textile minister
Oct 10, 2011: CBI registers FIR against Marans, Krishnan among others
Mar 21, 2013: CBI officers meet Attorney General of Malaysia
Apr 17, 2013: Supreme Court gives CBI three months to wind up probe and present status report