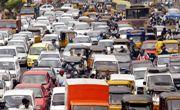 Last year, German car maker BMW maintained its lead in the Indian luxury car market, even as competitor Audi from the Volkswagen Group narrowed the gap.

BMW sold 9,375 units in India in 2012, topping the list of luxury car makers for the fourth consecutive year.

In the same period, Audi sold 9,003 units. Compared with its sales of 5,511 units in 2011, Audi's sales jumped 63 per cent.

The company has set a target of overtaking BMW in luxury car sales in India by 2015.

Since the beginning of 2013, the three luxury car makers -- BMW, Audi and Mercedes-Benz -- have raised prices in the range of one to five per cent.

Michael Perschke, head, Audi India, said, "We had set a target of 8,000 cars for 2012, but managed to achieve that target by November.

"We then revised the target to 8,600 cars and managed to exceed this target as well, with total sales of 9,003 cars.

"Our strong performance is a result of our diverse product portfolio, network expansion, unique marketing activities and after-sales
service that is on a par with global standards.
"We have already made headway in 24 dealerships across the country by consolidating our leadership presence in markets like the National Capital Region, Gujarat and Maharashtra, among others."
The rise in prices followed the luxury car makers discontinuing discounts and focusing on brand-building. Earlier, these companies offered discounts of up to Rs 100,000 on certain models.
Philipp von Sahr, president, BMW Group India said, "The success of BMW India has always been built on long-term thinking and responsible action.
"BMW has emerged as the strongest and the most coveted brand in the luxury car segment in India.
"It has the most desirable product portfolio and an efficient dealer network."
BMW India plans to expand its completely-knocked-down product range to better avail of opportunities in the luxury car segment.
This year, the company would launch the new BMW X1, the new BMW 7 Series and the BMW 1 Series.
The new BMW 7 Series and the BMW 1 Series would be produced at the company's plant in Chennai.