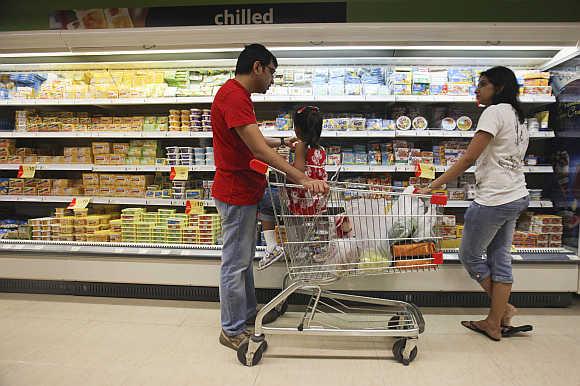 Opposing a government-panel proposal to hike FDI limit in multi-brand retail, the Confederation of All India Traders (CAIT) on Wednesday said such a move will hurt interest of small traders and mostly benefit large corporates.
At present, the FDI limit in multi-brand retail sector is at 51 per cent. The CAIT alleged that "raising the existing foreign investment cap in multi-brand retail is an attempt by the committee to succumb to the pressure of global retailers and big indigenous corporate houses."
"Foreign investments by MNCs will hijack the country's retail trade which would lead to closure of majority of small businesses and job losses for lakhs of people engaged in the sector," CAIT President B C Bhartia said in a statement.
A committee headed by Economic Affairs Secretary Arvind Mayaram on Tuesday had proposed to increase FDI cap to 74 per cent in the multi-brand retail trading under the government approval route, among others.
It also proposed raising the cap to 49 per cent under automatic route in sectors like single-brand retail. CAIT Secretary General Praveen Khandelwal said these recommendations are not based on ground realities and traders community has not been consulted on this issue.
"If the government would go ahead with the panel's recommendation, traders will be forced to launch an all-India agitation against such a move," he said. Earlier, traders had called 'Bharat Bandh' twice to protest against the government's decision to allow FDI in multi-brand retail, besides organising several protests.