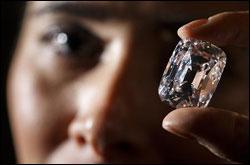 India's diamond capital Surat, in Gujarat is home to around 5 million people. Ten per cent of whom - some 500.000 residents - are believed to be employed in dealing, polishing or cutting diamonds.
And with the impending Union Budget, the diamond merchants are keen to lay out their own demands and expectations.
Surat is home to more than 3,000 large and small polishing companies.
Citing an already subdued economy, the diamond merchants are asking for tax rules and norms to be eased.
They are recommending the implementation of the Benign Assessment Tax Procedure and therefore a reduction of the net profit to 2.5 per cent of turnover instead of 6 per cent for the computation of Income Tax.