The Budget proposal to develop the outer harbour project at V O Chidambaranar Port at Tuticorin in Tamil Nadu at a cost of Rs 7,500-crore will be a major boost for the exporters in southern India, who are currently spending a lot of money to trans-ship their cargoes via the Colombo port.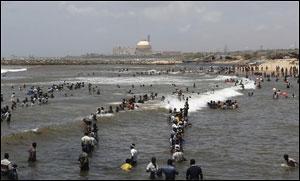 This is because the port in Tuticorin currently cannot handle larger vessels. At present, traders send their cargoes in a container through a feeder vessel to Colombo, where its gets unloaded and again loaded in the mother vessel.
The harbour project will help exporters save around Rs 1,000-1,500 crore (Rs 10-15 billion) a year on overseas trans-shipment, according to sources. The immediate saving would be $200 for exporters, said Joe Villavarayar, a trustee of the V O Chidambaranar Port. The outer harbour project was first mooted in 2006, but little progress has been made so far.
Of the proposed Rs 7,500 crore (Rs 75 billion), the port trust will spend Rs 1,900 crore (Rs 19 billion) for breakwater construction and Rs 1,600 crore (Rs 16 billion) for dredging. The rest will be raised through public-private partnership, said Natarajan, deputy chairman, V O Chidambaranar Port. Construction is expected to start for the outer harbour by January 2015 and the first phase is expected to commence in 2019-20.
"We are planning to seek Rs 800 crore (Rs 8 billion) as grant from the Government of India, towards dredging and balance will be funded through loan," said Natarajan. A Sakthivel, president of the Tirupur Exporters Association, said that the additional capacity at Tuticorin will not only save freight cost, but also time. This will bring Indian products close to Chinese prices, said T Johnson of St John Group.
Once the project is complete, the port will be able to directly compete with the international ports. The Budget proposal has already grabbed the attention of some of the financiers including Japan International Cooperation Agency (JICA). Natarajan said the finance minister's announcement came at the right time. At present, the port's capacity is 33.3 million tonnes (mt) a year. Last year, the port handled 28 mt of shipments. The port has taken up projects worth Rs 1,292 crore (Rs 12.92 billion), including coal berths, cement and construction berth and a second container terminal are under various development.
These projects will take the port's capacity to 85 mt over the next two years.
The port is also investing around Rs 1,280 crore for inner harbour dredging programme.
IIT-Chennai has created the project report.
Phase I of the project will be taken up in 2013-14.