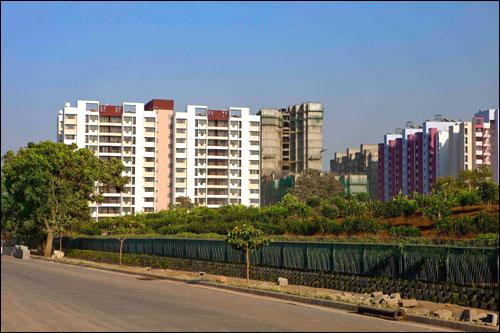 Hit by slackening demand amid economic slowdown and high interest rates, the real estate sector has asked for infrastructure status for the housing sector in the Budget for 2013-14, which would help it avail of tax benefits and easier flow of credit.
The housing ministry has said at least low-cost housing should get this status.
The National Real Estate Development Council (Naredco) said the sector should get infrastructure status and rental housing should be made more attractive to address the shortage of houses.
The deduction from rental income under Section 24(a) of the Income-Tax Act should be increased from 30 per cent to 50 per cent, according to the council. "This will promote rental housing. And, for women and senior citizens, the deduction could be 100 per cent, keeping social requirements and empowerment of women in view."
Brotin Banerjee, managing director and chief executive officer of Tata Housing Development Co, said he expected a raise in the income-tax exemption limit to Rs 3 lakh and a reduction in excise duty rates to put higher disposable income at the hands of the public.

He further demanded that service tax be done away with in the housing sector. "There should be no service tax for residential construction, to motivate consumers to increase the buying activity and revive demand," Banerjee said.
Developers blamed the tight monetary policy of the Reserve Bank of India for slackening housing demand. Despite pressure from several quarters, RBI has refused to cut interest rates since April last year, citing inflationary concerns. According to a Cushman and Wakefield report, there was a 16 per cent drop in the residential market across major cities in India in 2012.
Realty players were cautious in launching projects as the gap between a launch and the absorption numbers reduced to 32,000 units in 2012, compared with 82,000 and 94,000 units in 2010 and 2011, respectively, according to a Knight Frank report. Consultancy firm DTZ said it expects an extension of an interest subsidy scheme with enhanced limit on housing.

"We hope the finance minister relaxes norms pertaining to external commercial borrowing (ECB) for low-cost housing," said Anshul Jain, chief executive officer of DTZ India. The government should look at development of special residential zones, he added.
Budget 2012-13 saw an interest subsidy scheme of one per cent on housing loans up to Rs 15 lakh, where the cost of a house does not exceed Rs 25 lakh for another year. Then finance minister Pranab Mukherjee had announced measures to address the shortage in low-income housing during his last Budget speech by allowing ECB for low-cost housing units and setting up of a credit guarantee trust fund to ensure better flow of institutional credit for housing loans.

Builders in the National Capital Region are currently looking more at ECB, which will carry on in 2013, said Raj Sharma, managing director, Best Property Deals.
Housing Minister Ajay Maken, in a recent interview with Business Standard, had said affordable housing should be granted infrastructure status so they could get loans at affordable rates.
"Now, affordable housing comes under commercial real estate. Once it's a part of the infrastructure sector, four per cent of bank loans should be reserved as priority loans for affordable housing," he had said.
Like for infrastructure projects, a delay of more than six months should not be considered as non-performing assets, he had suggested.