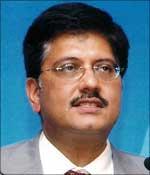 Piyush Goyal is a member of Rajya Sabha and the national treasurer of Bharatiya Janata Party.

He is a chartered accountant by profession.

Goyal answered our readers' questions about the Union Budget, and how it will impact them.

Here is the transcript:
Piyush Goyal says, Hi, this is Piyush Goyal. I'm ready to respond to your questions.
---
RAMAMURTHY asked, ALLOTING CRORES OF RUPEES TOWARDS WELFARE OF SC/ST. WHETHER THESE FUNDS ARE ACTUALLY UTILISING OR FILLING THE POCKETS OF POLITICAL LEADERS
Piyush Goyal answers, at 2013-02-28 17:36:57Affirmative action for the welfare of SC/ST is a welcome step. Unfortunately, the implementation is tardy and rampant corruption found in various schemes. It may be a good idea to review all these schemes and focus on providing skills development and vocational training along with opportunities for education and proper healthcare. Large scale development of the manufacturing sector and infrastructure growth is required to provide jobs.
---
Balaji asked, Why are we wasting money on defence when we have no war - our deals are full of corruption and we are not able to use military to prevent terrorist strikes? We should cut down defense expenditure
Piyush Goyal answers, Investments to secure to secure the external borders are essential to protect the sovereignty and interegrty of our nation. We have a very hostile neighborhood and have to be constantly prepared to face the challenges of external aggression. We have already fought three wars and several skirmishes. The imperative need is to modernise the defence forces to provide adequate deterrent against incursions on our territory. Obviously, one cannot and should not tollerate corruption in defence purchases and have to bring in transparent processes.
---
Rangoli asked, Dr. Mr. Piyush, Do You think this budget will make any difference in Economy Growth. There are hardly any revenue generation thru it and neither any rebate in Income Tax slab nor any concrete growth plan. Where d original Mr. PC is missing?
Piyush Goyal answers, The budget does not provide adequate impetus to spur investment lead growth, which is the need of the hour.The revenue projections are over optimistic. I feel, just like the Government did in the current year, they may slash capital expenditure to maintain fiscal balance which will adversely affect growth. Certainly, this is not what was expected from a seasoned Finance Minister.
---
avijit asked, Good Evening Mr Goyal. Lot of expectation was there from the Budget 2013-14, but it appears lack lustre and nothing for the Aam Addmi.This has just been a cover up and extremely miserable.Pl comment.
Piyush Goyal answers, It is unfortunate that the budget does not offer any relief for the common man, in fact they are not even mentioned in the FM's speech.The performance of the economy in the last few years with jobless growth, high inflation and interest rates & fiscal imbalances will cost the common man dear in the years to come.
---
snr asked, Is direct tax code in offing which is why no personal tax sops
Piyush Goyal answers, The Standing committee on Finance submitted its report on the Direct Taxes Code (DTC)report one year back. Perhaps, this government is not keen to re-introduce DTC into the Parliament. Thus, exposing the true intentions of the Government against the people. The Standing Committee in its report had recommended no tax upto income of Rs. 3 lacs and number of other measures that would have brought relief to common man. Due to sheer mis management of the economy, the Government has got this nation into crises like situation.
---
abhay asked, What is there in this budget for health of common people, Senior Citizens, unemployed youth?
Piyush Goyal answers, This budget gives no road-map of employment generation for the unemployed youth. The government accepts the need to create 10 million jobs every year. But, where are the jobs? There is a negative job growth. The budget has only cosmetic changes to offer and was full of verbosity. Only announcing schemes for women and minorities does not work. Also, Senior citizens have been largely left out. There are serious issues with implementation by the government. there are a lot of leakages in delivery of services and benefits by the government. Hence, it is important for the government to focus on delivery and proper implementation of schemes announced. Not merely big announcements.
---
Piyush Goyal says, Thank you for your questions. I would love to answer all your questions - perhaps, next time when we meet.
---