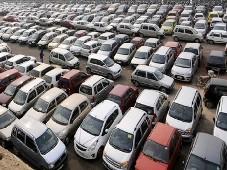 Korean auto major Hyundai Motor Co on Thursday projected lower total car sales from its Indian unit this year despite posting a marginal increase in 2012.

According to the company's business plan for 2013, the company said its plant at Chennai is projected to have a wholesale volume of 6,33,000 units as compared to 6,41,000 units clocked last year, a decline of 1.3 per cent.

The domestic sales of Hyundai Motor India Ltd, the company's wholly-owned subsidiary, during last year increased by 4.70 per cent to 3,91,276 units from 3,73,709 units in 2011, while exports went up by 3.12 per cent to 2,50,005 units from 2,42,431 units in the previous year.

HMC, however, set a higher overall global sales target of 46,60,000 units for this calendar, up 5.7 per cent from 44,10,000
units last year.
In 2012, the company's revenues in India stood at 5,097 billion Korean won (over Rs 25,600 crore), up one per cent from KRW 5,052 billion (over Rs 25,400 crore).
For the fourth quarter ended December 31, 2012, HMC had reported a 5.49 per cent decline in net profit at KRW 1.89 trillion as against KRW 2 trillion. Its revenues stood at KRW 22.72 trillion as compared to KRW 20.52 trillion.
In the calendar 2012, HMC had a net profit of KRW 9.06 trillion, up 11.7 per cent from KRW 8.11 trillion last year.
Sales revenue during the year stood at KRW 84.47 trillion as compared to KRW 77.80 trillion last year, up 8.6 per cent.