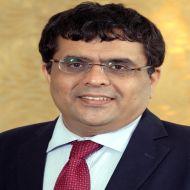 With the Budget set to be announced on February 28, expectations of the industry and markets from the finance minister are quite high.
Various industries and sectors, including the investment sector, expect the Budget to cover at least some of their wishes.
Edelweiss Asset Management Company, a firm that offers a range of investment products and advisory services, too has a wish list, with the call to lower the deficit topping the agenda.
Peeyoosh Chadda, head-investment advisory group, says: "Our core expectation from the Budget is the wish to see the deficit go down."
He says: "Controlling the fiscal deficit is a significant challenge for the government. Two years ago, when the private sector was not willing or able to spend in an aggressive manner, the government stepped in to spend.
"Over the past year, the private sector has started spending, and now the government needs to rein in its spending. Measures, such as 3G auction and broadband licenses by the government, helped to cut the deficit last year.
"This year, the challenge will be to balance the need of social spending, lowering duties to control inflation, funding higher oil prices and meeting the expectations of deficit control.
"It's a tough task, and the government may have to consider raising tax collections - either by raising taxes or by tightening the tax net.
"Our core expectation from the budget is a strategy to lower the deficit."