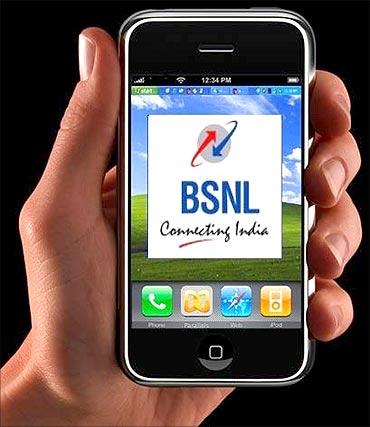 To revive the two state-run telecom operators, Bharat Sanchar Nigam Limited (BSNL) and Mahanagar Telephone Nigam Ltd (MTNL), the government is likely to waive the one-time fee these telcos need to pay for retaining additional spectrum. This would give a burden of Rs 12,000 crore (Rs 120 billion) to the exchequer.
In a recent presentation before a group of ministers (GoM), constituted to chart a revival strategy for the troubled telcos, the department of telecommunications (DoT) had proposed to extend this assistance to the two telcos for retention of spectrum beyond 4.4 MHz in GSM and 2.5 MHz in CDMA, officials said.
BSNL has more than 4.4MHz GSM spectrum in 20 circles. In 15 of those, it has more than 10 MHz, the highest spectrum available with any operator. MTNL has 12.4 MHz GSM spectrum in Delhi and Mumbai. BSNL had earlier communicated to the government about returning its additional CDMA spectrum in Kerala, where it has 3.75 MHz.
DoT also pitched for preferential treatment to the services of BSNL and MTNL in government and public sector undertakings. Besides, it was in favour of waiving notional loans on BSNL books.
"There should be a revenue stream from telecom infrastructure for the two state-run telcos, and the companies should also explore new business opportunities through sharing telecom infrastructure and convergence of services," the DoT had opined, officials said.
The GoM, headed by Finance Minister P Chidambaram, had its first meeting last week since it was constituted after Communications Minister Kapil Sibal in a letter to the Prime Minister Manmohan Singh raised concerns over the future of these telcos. The next meeting of the GoM is likely to be held soon.
Officials said DoT was of the view GoM should look into options of trifurcation of BSNL and MTNL, by spinning off two new companies each for BSNL and MTNL — for network infrastructure and land development separately. While BSNL and MTNL would continue as services and marketing entities.
DoT proposed spectrum fee for broadband wireless access (BWA) should be refunded to BSNL and MTNL, after they surrender the airwaves as this had seriously depleted their cash reserves.
The two companies had asked for a refund of the entire amount paid for the BWA spectrum. BSNL had paid Rs 6,725 crore (Rs 67.25 billion) and MTNL Rs 4,534 crore (Rs 45.34 billion). Both had together accumulated a loss of Rs 39,314 crore (BSNL Rs 24,681 crore and MTNL Rs 14,633 crore) at the end of March 2013.
BSNL had said it would be able to make about Rs 250 crore (Rs 2.5 billion) in 2013-14 from sale of land and about Rs 250 crore annually in rental income from its assets (properties) across the country, starting 2016-17.
BSNL caters to about 14.8 per cent of all mobile users in India, while MTNL has a market share of 0.8 per cent. Both have a dominant share in the fixed-line segment, which is not growing anymore.