British Prime Minister David Cameron is visiting India next week with key cabinet ministers and a high-powered business delegation, to strengthen trade and investment ties.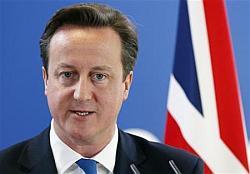 This will be his second visit to India since becoming PM in 2010. In India on February 19 and 20, Cameron will be accompanied by the ministers of trade and commerce, defence and environment, among others.

A big business delegation accompanying him will have the heads of several conglomerates, from the retail to infrastructure sectors.

His earlier visit to India, within weeks of his election, was also with a large delegation. He is expected to visit this city and Mumbai; some of his officials are also expected to visit Gujarat, with investment plans.

UK investors are now looking at Gujarat with far more interest than earlier. James Bevan, the UK high commissioner, had actively participated in the 'Vibrant Gujarat' meet with a large business delegation.

There, he had said Britain and Gujarat were "natural partners" and he expected more and more Gujarati investment to Britain. Recently, the European Union (EU) lifted its 10-year ban on Chief Minister Narendra Modi visiting any member-country, imposed after the 2002 anti-Muslim riots.

Issues

"Some tricky issues are definitely going to be on the PM's agenda, which includes Vodafone (the imbroglio with tax authorities here) and Tesco (the retail giant's entry plans)," a senior official told Business Standard.

"They are also interested in investing in the infrastructure sector, in which India plans to invest $1 trillion in the near future. Besides, investors in the UK had become quite apprehensive of investing in India, with some of the recent announcements concerning retrospective tax amendments and GAAR (general anti-avoidance rules)," he added.

Vodafone has been entangled in a row with authorities here since it acquired Hutchison Whampoa's mobile telephony business in India for $10.7 billion in 2007.

According to the government, Vodafone should pay tax of Rs 14,000 crore (Rs 140 billion)
on the acquisition.
The dispute added another aspect last week when it was served a notice by Indian tax authorities over a transfer pricing issue related to the sale of shares of Vodafone's India subsidiary to a Mauritius-based firm. The British telecom firm has decided to challenge this.
Cameron is also expected to take up the issue of British retail giant Tesco, eagerly waiting to enter the multi-brand retail sector here.
It recently decided to set up an Indian subsidiary to buy fresh and processed foods for its global stores.
In 2008, the company also entered into a separate franchise agreement with Trent, retail arm of the Tata Group.
There is also the British government's decision to phase out the financial aid it gives to India by 2015, expected to shift to only technical assistance.
Ahead


According to another official, the UK government is keenly awaiting our Parliament's approval on some recent government proposals for opening foreign investment in the insurance sector and in pension funds.
Britain has the third largest stock of both inward and outward foreign direct investment (FDI), after only the US and France. But FDI flows from Britain into India as a percentage of Britain's global outward FDI stock are only 1 per cent.
Total investments from the UK into India are $28 billion. These predominantly came through Castrol, Cairns, HSBC, BP, Vodafone and Stanchart. India has emerged as a major investor in Britain, with companies from here having invested $19.9 billion there.
Bilateral trade was $16.25 billion in 2011-12, up from $12.7 billion in 2010-2011 and $10.7 billion 2009-2010. Both sides have agreed to double the trade by 2015.
India has a double taxation avoidance agreement with the UK since January 1993 and a bilateral investment promotion and protection agreement since 1995.
Image:
Britain's Prime Minister David Cameron.