The US bonds allegedly worth $5 billion recovered from a Tamil Nadu-based commodities trader last week will take a flight to their home country, "for physical verification", said a senior government functionary.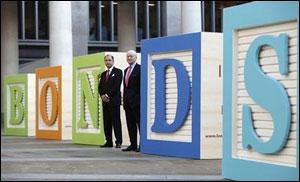 "If the instruments are proved to be genuine, then it could be the tip of a multi-billion hawala operation. We are not ruling that possibility out," he added.
In November, Aam Admi Party leader Arvind Kejriwal had alleged foreign banks were involved in laundering money for politicians and corporate leaders. He had revealed confessional statements of three individuals who had used the services of a foreign bank to stash money abroad. An official estimate put the amount of black (unaccounted) money in the country at Rs 10 lakh crore.
Income tax officials unearthed what was initially reported to be "US treasury bonds" worth $5 bn. There were five instruments with a denomination of $1 bn each. T M Ramalingam, based in the central Tamil Nadu town of Dharapuram, was found in possession of these instruments. He has been interrogated at his home and the I-T offices in Chennai. He has maintained the bonds were issued in his name and were valid.
Ramalingam has also said the IT raid followed his application to the central government for permission to set up a multi-billion dollar refinery in southern Tamil Nadu, with the support of foreign investors.  The department had  questioned officials of Barclays Bank, which is said to have issued these instruments.
Last February, the media reported that Italian anti-mafia prosecutors seized a record $6 trillion of allegedly fake US bonds. These were found hidden in makeshift compartments of three safety deposit boxes in Zurich, the prosecutors from Potenza had said. The Italian authorities arrested eight people in connection with the probe, dubbed 'Operation Vulcanica'.
The financial fraud they uncovered included two cheques issued through a bank in London for pound 205,000 ($325,000), not backed by available funds, the prosecutors said. As part of the probe, fake bonds for $2 bn were also seized in Rome. The individuals involved were planning to buy plutonium from Nigerian sources, according to phone conversations monitored by the police, a Bloomberg report said last February.