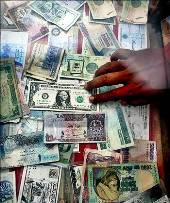 Foreign brokerage Bank of America-Merill Lynch said on Monday the Reserve Bank may start buying dollars once the rupee stabilises at the 62 level, to bolster the import cover to the traditional 8-10 months.

"We expect Governor Raghuram Rajan to buy forex if the rupee settles down at about 62 to the dollar," it said in a note.

The report said the import cover has gone down to seven months, last seen in 1998 and hence, RBI will focus on recouping the reserves.

It can be noted that the Rupee had fallen to 68.80 last month, but after Rajan took over the mantle of the RBI on September 4, it has gained back over 10 per cent.

Today the currency settled at 62.60 against the dollar, down 9 paise.

"The RBI needs to add USD 50-100 billion to revert to 8-10 months' import cover to build a bullet-proof national balance sheet that Rajan has spoken of," it said.

It added the recent measures like the concessional swap facility for fresh NRI dollar deposits will not be enough to recoup the reserves, which have gone down to $277 billion from a peak of over $324 billion.

However, contrary to fears of a depreciation in the local currency if the RBI starts buying, the report said RBI's entry into the market will boost the confidence of investors and actually lead to an appreciation of the rupee.

The report also said this phenomenon was seen from 1998 to 2004, when the RBI bought dollars and yet the local currency appreciated.

"We see forex policy reverting to the Jalan-Reddy era of buying back forex," it said.

The report said the Reserve Bank will withdraw the liquidity tightening not before December, saying the Governor's statement of a 'calibrated' withdrawal hints at a delayed response in relaxation.