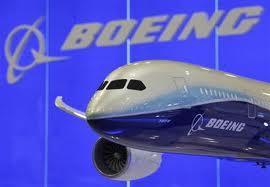 US aircraft major Boeing on Wednesday flight-tested its first 787-9 Dreamliner aircraft which is a bit larger than the 787-8s Air India owns and has additional special features than the earlier version.

The maiden flight, which is part of a comprehensive flight-test programme leading to its certification and delivery in mid-2014, was for over five hours with a Boeing spokesperson saying here that it was successful.

During the flight-test, the pilots examined the high-tech composite airplane's systems and structures, onboard equipment and transmitted real-time data to a team on the ground in Boeing's Seattle headquarters.

Powered by two Rolls-Royce Trent 1000 engines, the first 787-9 would be joined in more flight tests by two additional airplanes, one of which would have General Electric GEnx engines, she said, adding that the two other aircraft were in the final stages of assembly at Boeing's Everett factory.

Over the coming months, the fleet would be subjected to a variety of tests and conditions to demonstrate the safety and reliability of the aircraft's design.

The first of these planes would be delivered to the launch customer Air New Zealand next year. Air India, which has so far inducted eight of the 27 787-8 Dreamliners it has ordered, has not opted for this aircraft.

The 787-9 is a stretched version of the 787-8, with the former able to fly up to 290 passengers compared to 250 seat capacity in the latter.

It is 20 feet longer than 787-8 but both the versions use 20 per cent less fuel than any other airplanes of their size.

The 787-9 offers the passenger-friendly features like large, dimmable windows, large stow bins, modern LED lighting, higher humidity, a lower cabin altitude, cleaner air and a smoother ride.

All 50 787-8 Dreamliners in service across the world, including India, were grounded on January 16 following two incidents of battery fires.

Boeing modified the jets with new batteries and flights resumed in April.

Boeing is planning to make a yet larger version of the Dreamliner, to be called 787-10, which would be able to carry over 300 passengers.
The image is used for representational purpose only