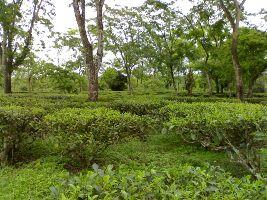 The West Bengal government has decided to set up an Eco-Tourism Board to project the state as a major tourist destination.

State Tourism Minister Bratya Basu said that Chief Minister Mamata Banerjee had directed the Tourism Department to go ahead with the setting up the board.

Accordingly, a task force composed of a host of professional consultants and senior officials has been set up to implement the decision.

"A comprehensive decision will be announced after the task force submits its recommendation to the government," Basu said.

The minister told PTI that the state government had taken up developing a major tourist hub in the Dooars forest in north Bengal.

"The work for mega tourism projects at Gajaldoba in Jalpaiguri district, the gateway to the Dooars, has already started over 200 acres of land identified by the state government to build a mega-tourism project," Basu said.

"Over Rs 100 crore (Rs 1 billion) is lined up for investment in phases out of the state plan fund for infrastructure development on roads, power, drainage and water supply," he said, adding it would take about two years to complete.

The Tourism Department is also working on developing two new eco-tourism hubs at Sylee, adjacent to Malbazar, and Kunjanagar near Falakata in the Dooars over an area of 90 acres.

Sylee, situated around 62 km from Siliguri, is adjacent to Sylee tea garden and surrounded by hills, a river and greenery, making it an excellent tourist spot.

Activities like trekking, bird watching and jungle safari can be an added attraction for the tourists.

At Kunjanagar, around 105 km from Siliguri and close to the Jaldapara wildlife sanctuary, visitors can get a panoramic view of the area's natural beauty.

Meanwhile, tourist resorts have come up at Murthi in the Dooars and the Tourism Department is planning to develop Nature Interpretation Centre at Tilabari and Batabari in the area.

The minister said that the department was planning to utilise natural resources of these areas to set up the new hubs comprising resorts, food courts, cultural centres, health centres, spa and art and craft centres.

"These will come up on a private-public-partnership model costing around Rs 1,000 crore (Rs 10 billion)," he said.

Apart from this, eco-tourism projects will also come up at Jharkhali in the Sundarbans and Sabujdweep (an island on the Ganga) and at Jharkhand in West Midnapore district, the minister said.

The department is also going to focus on developing home stays in the region to attract tourists, boost overall economy of the area and generate employment in the locality.

"We are also going to start home stays by involving residents of the fringe areas of different forests and other tourist spots.

"A number of private tour operators have already introduced the concept in the region, which we are now trying to explore by involving local residents," the department officials said.
Image: Hila Tea Estate at Dooars, West Bengal; Photograph: Rajibnandi/Wikimedia Commons