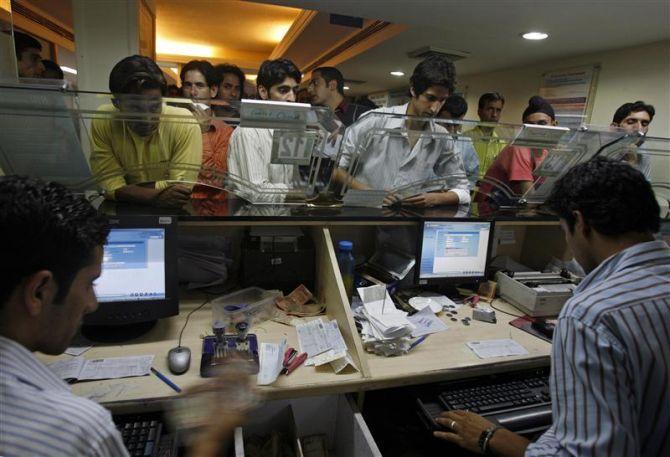 It is not just retailers that are cashing in on the e-commerce wave; banks, too, are not far behind in wooing customers by offering online deals and discounts.
Private-sector banks have been either launching e-commerce sites exclusively for their customers or have been tying up with more online retailers to provide better offers.
IndusInd Bank recently launched www.themorestore.in exclusively for the credit card and debit card holders of the bank.
Anil Ramachandran, head retail unsecured assets - credit card and personal loan, explains the whole rationale behind the recent focus on the e-commerce push of the bank is the underlying strategy to improve the share of its debit and credit card spends.
"People have been increasingly shopping online these days and it is a great way to attract customers.
It is not only convenient, but easy to compare and as a result, people like shopping online. We have allowed our bank customers to not only shop online but also redeem their points online and this is a very attractive proposition," says Ramachandran.
IndusInd Bank has launched this in collaboration with Onemi.in, an e-commerce company.
Technopak, a retail consultancy firm, said that the online retailing space is expected to grow from $2.3 billion in 2014 to $38 billion by 2019.
HDFC Bank, India's second-largest private sector bank, has also been increasing its focus in the digital space.
The lender has a dedicated website for its credit card holders.
The website provides its credit card holders with several online shopping options. Experts say such offers and services help in increasing card spends for the banks.
According to industry professionals, credit card spends have gone up by over 30 per cent annually, on an average, and such offers help push the spends even further.
Even ICICI Bank, India's largest private-sector lender, has been stepping up its focus on retail and brand tie-ups. The bank has been tying up with several online retailers as well as offline ones.
An ICICI Bank spokesperson said: "Initially, the bank focused on tie-ups with alliance partners to provide exclusive offers and benefits to its customers and increase usage of its payment channels like cards and internet banking.
The focus, however, has changed over the years. Now the bank has deepened its relationship with alliance partners to execute innovative customer engagement campaigns that provide content and customer rewards for these campaigns, thus broadening the association beyond offers."
The bank does not have an exclusive e-commerce site yet, but instead it promotes such offers via the bank website itself.
CLICKING THE GROWTH BUTTON
•Private-sector banks have been either launching e-commerce sites exclusively for their customers
•IndusInd Bank recently launched www.themorestore.in exclusively for the credit and debit card holders of the bank
•HDFC Bank has a dedicated website for its credit card holders
•ICICI Bank, India's largest private-sector lender, has tied up with several online retailers as well as offline ones