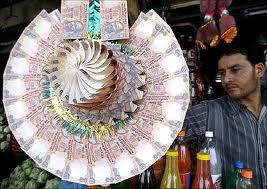 Banking shares are trading higher by up to 2%, erasing there early morning losses, after the Reserve Bank of India reduced the marginal standing facility (MSF) rate by 25 basis points to 8.75% from 9%.

Banks usually tap the MSF rate during acute cash tightness.

The RBI also increased the liquidity provided through term repos of 7-day and 14-day tenor from 0.25% of net demand and time liability of the banking system to 0.5%
with immediate effect.
ICICI Bank, YES Bank, IndusInd Bank, Axis Bank, Union Bank of India, Bank of India and Punjab National Bank are trading higher by 2-3% on the National Stock Exchange.
The NSE banking shares index Bank Nifty was up 2% compared to 0.6% rise in benchmark CNX Nifty at 1125 hours.
Currently, Bank Nifty trading at day's high of 10,968, has recovered nearly 300 points from low of 10,669 in early morning trades.