Bank of Bahrain and Kuwait (BBK) is planning to scale up its presence in India by opening a branch in New Delhi, its fourth in the country. It also plans to pump in more capital and scout for potential partners for its credit card unit and call centre.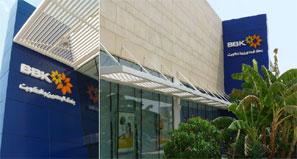 Currently, the West Asian banking group has three branches — in Mumbai, Hyderabad and Kochi.

Abdulkarim A Bucheery, chief executive of BBK, said the bank already had ties with top Indian companies and planned to provide mortgage products for retail business.
While the bank's asset base for Indian operations was about $260 million, the group's overall total India-linked exposure stood at $500 million. At the least, BBK planned to triple the size of its asset base in the next five years, Bucheery said.

The bank will pump in an additional $15 million in its Indian operations this year. In 2013, it had invested about $30 million. Its business (deposits and advances) in India stood at Rs 1,388 crore (Rs 13.88 billion) at the end of March 2013, against Rs 897 crore (Rs 8.97 billion) in March 2011.

BBK has expressed interest in supporting financial services and is scouting for partners for the credit card and business process outsourcing segment.

On when would the bank shift its India operations to a wholly-owned subsidiary, he said BBK was closely considering the option. However, it would wait to see the views of foreign banks that had a large presence in India in this regard, he said, adding issues such as right to repatriate capital needed more clarity.