Infosys' second quarter numbers have yet again disappointed the street, but the bigger shocker was the announcement that chief financial officer (CFO) V Balakrishnan is moving away from his role. Infosys stock was down by 7.37 per cent at Rs 2,345 a share on Friday morning.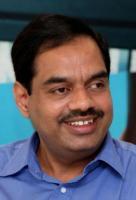 After being at the helm of the company's finances for six years, Bala (his nickname), will give up his position as CFO on October 31. Rajiv Bansal, currently vice president-finance, will take over as CFO from November 1.

For many, who have tracked the company, this news comes as a big surprise, raising questions on the timing and the reason for the move.

"I don't know how this helps the company. What surprises me is the timing. I suppose getting a non-IT person at the helm of the board just does not make sense. Clearly there is pressure from the top and from investors," said an analyst of a leading brokerage firm.

Balakrishnan will continue as a member of the board and will be responsible for three key businesses - business process management (or Infosys BPO), Finacle and the India Business Unit.

"Bala is one of the finest CFOs in the country. He has led his team in setting new standards in financial reporting, corporate governance and compliance. A top performer, he has successfully managed a high quality financial model which has withstood the pressure
of the current economic downturn. Given his belief that younger people should get strategic opportunities to shape this company, he has voluntarily given up his CFO position and has instead chosen to focus on Infosys BPO, Finacle and the India Business Unit," said Kris Gopalakrishnan, executive co-chairman of Infosys.
Bansal has been with Infosys for 13 years and has been heading the finance function under Bala for the past four years.
Though the company is pointing this move towards leadership change, analysts are not too convinced. "It is a cause of concern. I don't know what the internal dynamics are, but as an outsider it clearly does not look like a good picture. Especially the way the company is performing."
"I agree the company has been grooming talent, but is the timing right?" said yet another senior analyst.
Infosys has been disappointing the street on its guidance for a few quarters now. The company also has been struggling under the restructuring that started almost over a year ago. Whereas competitors like TCS and HCL Technologies have managed to grow better.
Balakrishnan joined Infosys in 1991 and has served in various capacities in the Finance department. What analysts are also concerned about is that Bala's resignation comes at a time when the company had finally started to move on its inorganic strategy. It is a known fact that Bala has been one of the key players in Infosys' inorganic strategy.