After learning lessons from market downturn and a series of product recalls, Japanese car maker Toyota on Wednesday said it will strengthen focus on emerging markets by increasing production, sales and developing models to suit local needs, as part of its global business plan till 2015.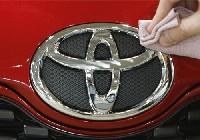 Outlining the firm's product strategy in the 'Toyota Global Vision', which was spearheaded by Toyota Motor Corporation President Akio Toyoda, the company said it is targeting 50 per cent of the turnover to come from emerging market by 2015.

Currently, emerging markets contribute 40 per cent to Toyota's global sales and it is aiming to "achieve a balanced sales portfolio among Japan, the United States, Europe and emerging markets".

Along with China, India is one of the key emerging markets for the company. The company has invested Rs 3,200 crore (Rs 32 billion) to set up its second manufacturing facility in the country to roll out mid-sized sedan Etios.

It aims to capture 10 per cent of the Indian car market by 2015, mainly on the back of the Etios family. In 2010, a total of 1.87 million cars were sold in India.

According to Toyota's global vision statement, it plans to expand "production capacity, analyse demand prospects in each region carefully to determine the geographical positioning, the timing and the scale of investment in expanded capacity".

On the new models front, Toyota said it will launch environment friendly products and also with emphasise on Innovative International Multipurpose Vehicles and newly developed subcompact models in the emerging markets.

Toyota will "focus in the years to 2015 on models for minimising environmental impact and on models optimised for needs in emerging markets."

Globally, Toyota will expand its line of hybrid models by launching about 10 more by 2015 and will continue to develop a full range of plug-in hybrid vehicles, pure electric vehicles and fuel cell vehicles.

The company will "continue to pursue further gains in fuel economy in conventional gasoline engines" it said.

Outlining the future strategy for Lexus brand, Toyota said Lexus will be positioned as premium brand globally.

"The company will offer Lexus models in a growing range of emerging markets, and expand the Lexus sales networks in markets where the brand is already a presence," the statement said.

Last year, Toyota had recalled over five million cars worldwide, in one of the biggest recalls in its history.