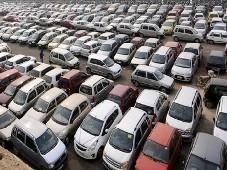 Domestic car sales fell by 12.51 per cent to 1,41,083 units in December last year compared to 1,61,247 units in the same month in 2011.

Sales of commercial vehicles were down by 13 per cent to 62,786 units from 72,166 units in the same period in 2011, Society of Indian Automobile Manufacturers said.

Total sales of vehicles across categories registered an increase of 2.77 per cent at 14,51,517 units last month as against 14,12,372 units in December 2011,
it added.
SIAM is expecting a growth of 0-1 per cent in domestic sales during the current fiscal.
The overall growth in domestic sales during April-December 2012, was 4.57 per cent over the same period last year.