Honda Siel Cars India said on Tuesday it would showcase the prototype of its proposed small car at the upcoming Thailand International Motor Expo this month and will launch the vehicle in India in 2011.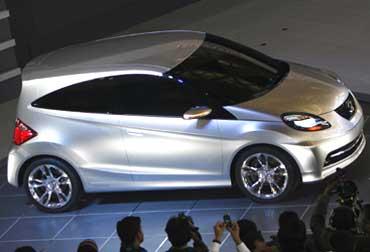 Honda had unveiled the concept of the vehicle at the Delhi Auto Expo this year and said it will be priced below Rs 500,000.
In a statement, Honda Siel Cars India said the world premiere of the prototype of the new small-size vehicle will take place at the forthcoming 27th Thailand International Motor Expo 2010, starting November 30.
HSCI, the joint venture between Honda and the Siel Group, further said the proposed small car is 'scheduled to be introduced to India and Thailand in 2011'.
Based
on this prototype, Honda will introduce two versions of the small car, the statement said.
"In India, Honda will introduce a model developed exclusively for the country's growing small car market. In Thailand, Honda will introduce a model that complies with the country's high fuel efficiency standards," it said.