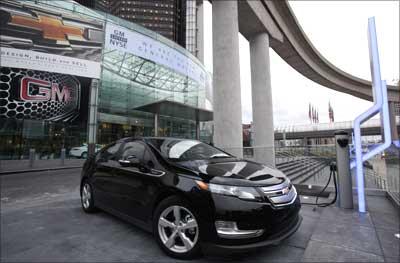 General Motors India on Friday said it will hike prices of its entire range of vehicles by up to Rs 10,000 from next month in order to partially offset impact of rising input costs.

"We plan to hike prices across our entire product portfolio by up to Rs 10,000 from January. This is due to cost pressure," General Motors India vice president P Balendran told PTI.

The company currently sells various vehicle brands in the country ranging from hatchback Spark to sports utility vehicle Captiva, priced between Rs 333,000 and Rs 25.71 lakh (Rs 2.57 million), respectivley, (ex-showroom Delhi).

Earlier this week, Hyundai Motor India Ltd had announced an increase in prices of its products across all models by up to Rs 20,000 from January.

This, it said, was to offset pressure of input costs on account of rupee depreciation and inflationary trends.
Image: Image: A Chevrolet Volt electric vehicle sits plugged into a charging station in front of GM's headquarter. Photographs: Rebecca Cook/Reuters