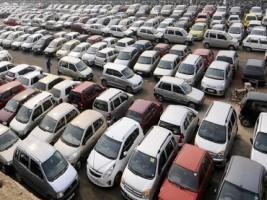 The decade's worst slowdown in automotive sales in India could badly hit the automotive components sector, which depends heavily on the automobile industry.

According to India Ratings, production of auto components will fall in FY15.

Reason: an expected three-five per cent decline in the production of vehicles, an estimated four-six per cent growth in the replacement market and a 7-10 per cent increase in exports.

"The auto component sector will continue to face subdued demand over the short-to-medium term.

"However, demand pressures are expected to be mitigated to an extent due to an increase in demand for localised components from foreign OEMs (original equipment manufacturers) who are aiming to curtail raw material costs and offset the impact of any adverse currency fluctuation," India Ratings said in a recent report.

Auto component firms focused on the commercial vehicle segment have been impacted more severely than those with more diversified product and customer profile.

All the three top commercial vehicle manufacturers - Tata Motors, Mahindra & Mahindra and Ashok Leyland --
were forced to keep their plants shut to cut production and bring it closer to retail demand.
Pravin Shah, chief executive officer (automotive division), Mahindra & Mahindra, said: "The environment remains challenging, there are no triggers, we hope the Auto Expo brings the trigger.
"We are not short of enquiries, but they are not getting converted in sales. We need a trigger which will bust this pessimism."
The auto component sector grew at five-six per cent last year against a 13 per cent growth in 2012.
This was due to lower 2.6 per cent growth in OEM volumes compared to 12.2 per cent growth.
Last year had also seen a significant erosion in the profit margins of most auto suppliers due to an increase in input costs such as power, fuel and labour.
However, raw material prices softened during the year and non-discretionary fixed general overheads also made a dent on the profitability of component suppliers, the report noted.
Sensing an impending slowdown, most large auto component players concentrated their business on a few customers geographies or automotive segments.