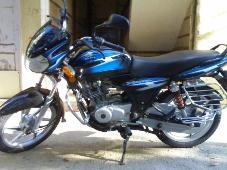 Bajaj Auto on Wednesday claimed its entry-level bike Discover has displaced Splendor of rival Hero MotoCorp as the largest selling motorcycle in the world based on sales in September.
The company sold 1,22,968 units of the Discover, launched in 2004, including domestic and exports markets, as against 1,21,018 units of the Splendor, Bajaj Auto President (Motorcycle Business) K Srinivas said.
Reacting to Bajaj's claim, a Hero MotoCorp spokesperson said: "Splendor continues to be by far the most popular and the largest-selling motorcycle brand in the world. Last year, we sold over two million Splendor bikes and we are well on course to clock that kind of number this year as well."
Pune-based Bajaj, however, said it has been able to overtake the rival's brand due to sharp fall in Splendor's sales over the last few months.
Citing monthly data disclosed by Hero MotoCorp, Srinivas said the Splendor's monthly sales have come off from the May 2012 peak of 2,53,149 units to the current stage, and claimed that the Discover's positioning and strategies can be a reason for the same.
He said innovation, better features, competitive pricing and the ability to do more than merely commute, courtesy the focus on power without compromising on the mileage, as the key factors which give the Discover the edge.
When pointed out the slim margin over Splendor and asked if the Discover will be able to maintain the leadership position going ahead, he said: "When we launched the Discover in 2004, the brand we wanted to attack was the Splendor. In eight years, we have got very close. Obviously, we will start the chase. Whether we will continue this or not is only what the future will tell us."
However, the Hero MotoCorp spokesperson said: "With our foray into new international markets set to commence soon, we are also looking at further adding to this number (two million units)."
Bajaj Auto's Srinivas said the company is bullish about its newly-launched variant Discover ST, and finding solutions to the capacity constraints and pushing up exports will help bolster sales.
The company has set a target of 1,30,000 Discover sales in October and 1,40,000 in November in the domestic market, along with exporting up to 20,000 units in each month, he added.