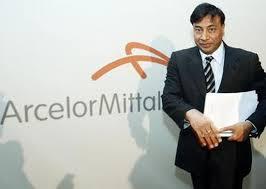 World's largest steel maker ArcelorMittal announced a lower net loss for the first quarter at $0.205 billion on higher EBITDA and sales, but the company is 'cautiously optimistic' for the rest of the year.

The company, headed by NRI billionaire Laxmi N Mittal, had clocked $0.345 billion net loss in the January-March quarter of the last year.

"Today's figures continue to show the improved year- over-year performance of our business driven by recovering steel markets, the expansion of our mining operations and the continued benefits of our focused cost optimisation," Mittal, who is also company's Chairman and CEO, said in a statement.

EBITDA of the company went up to $1.75 billion against $1.56 billion during the period under review.

Total steel shipments grew by 2.4 per cent to 21 million tonnes compared to 20.5 MT a year earlier.

Sales for the reporting quarter stood at $19.78 billion compared to $19.75 billion in the year-ago period.

The company has a net debt of $18.5 billion as of March 31, 2014.

It expects net interest expense for full year 2014 to be at approximately $1.6 billion.

Net interest expense in the first quarter was at $426 million compared to $478 million for the same period last year.

Foreign exchange and other net financing costs also increased to $380 million from $155 million a year ago.

"The prospects for growth of our core markets in Europe and the US are encouraging, and overall, we remain cautiously optimistic about the business outlook for the rest of 2014," Mittal said.

The company expects its EBITDA to be around $8 billion on hopes of its steel shipment increasing by about 3 per cent in 2014 over the previous year, and marketable iron ore shipments going up by around 15 per cent.

In 2013, ArcelorMittal had revenues of $79.4 billion and crude steel production of 91.2 million tonnes, while own iron ore production reached 58.4 million tonnes.

The company hopes to spend $3.8-4 billion on capex in the current year.

During the quarter, in partnership with Nippon Steel & Sumitomo Metal Corporation, ArcelorMittal completed the $ 1.55 billion acquisition of ThyssenKrupp Steel USA, a steel processing plant in Calvert, Alabama.
Image: Arcelor Mittal