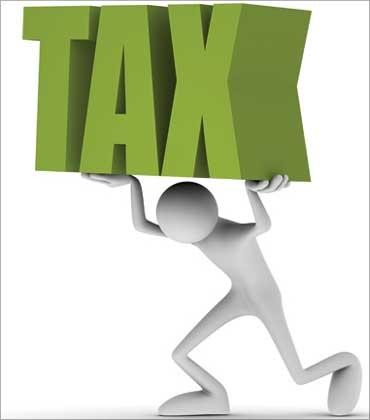 The gross tax collections fell short of the budget estimates of Rs 10.77 lakh crore (Rs 10.77 trillion) by Rs 40,893 crore (Rs 408.93 billion) in the last fiscal due to economic slowdown.
"Although there was an excess collection under service tax, it failed to compensate for the fall in these two taxes (corporate tax and excise duty). . .The shortfall on account of taxes was mainly due to slower pace of gross domestic product growth than expected at the beginning of the financial year," a Finance Ministry document said.

However, the overall gross tax revenues in 2012-13 showed a growth of 16.6 per cent over 2011-12 actuals while in the Budget, these were estimated to grow by 21.2 per cent over 2011-12 actuals.

Because of the economic slowdown, the actual corporation tax collection in 2012-13 was at Rs 3,56,326 crore (Rs 3,563.26 billion), up 10.4 per cent year-on-year as against 15.6 per cent estimated in the Budget.

"This is primarily due to the effect of economic slowdown from mid 2011-12 especially in the last quarter of 2011-12 and continuing in 2012-13 that impacted the profitability and the expectations of corporate tax payers.

"The shortfall in Corporation Taxes is one of the most important components in the overall shortfall in gross tax revenues in 2012-13, at 41.3 per cent of the total shortfall," the document added.

Taxes on income other than corporation taxes were budgeted at Rs 1,89,866 crore (Rs 1,898.66 billion), 15.4 per cent over the actual collection in 2011-12, assuming that rationalisation proposed in 2011-12 would increase the compliance and the dividends of increased compliance would be available by 2012-13.

"This assumption proved to be correct," as in 2012-13, the individual income tax marginally exceeded the budget estimate with final figures at Rs 1,96,844 crore (RS 1,968.44 billion) which is a growth of 19.7 per cent year-on-year.

As in the last year, the document said, the buoyancy in personal income tax collection goes to show that the rationalisation of the slabs and moderation in tax rates aid in improving tax collection.

On the indirect taxes front, the actual collection during the period was Rs 4,77,730 crore (Rs 4,777.3 billion), a growth of 20.9 per cent over 2011-12 and amounted to 4.8 per cent of GDP.

The actual excise duties collection during 2012-13 was Rs 1,75,873 crore (Rs 1,758.73 billion), a shortfall of Rs 18,477 crore (Rs 184.77 billion).