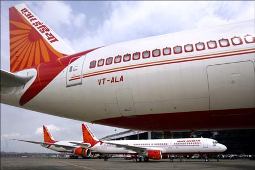 After years of wait, state-owned carrier Air India Ltd is likely to enter the prestigious Star Alliance in a few months.

G D Brara, the airline's director (commercial), will meet Star Alliance bosses in Frankfurt, Germany, this week.

Joining the Star Alliance, a global marketing group of 27 airlines, would mean an increase in passenger traffic because Air India would have become the automatic choice for customers on other Star Alliance members that travel to India.

"With an improved performance of Air India during its turnaround plan on various parameters such as market share, on-time performance and passenger load factors, we have been able to convince members of the Star Alliance (to offer membership)," a senior civil aviation ministry official said, requesting anonymity.

Jet Airways (India) Ltd, another contender for the alliance membership, is likely to strike a deal with Abu Dhabi-based Etihad soon.

Star Alliance is generally reluctant to partner with Gulf airlines, partnering with Air India is the only option for the alliance to enter the Indian market, said a senior Air India executive, who also asked not to be named.

In 2011, Star Alliance snubbed Air India.

The carrier could not join the alliance as it was grappling with several challenges such as repeated strikes by pilots, shrinking market share, worsening on-time
performance and merging of codes for erstwhile Indian Airlines with Air India.
Despite the process of admission being in the final stages, the airline's membership was put on hold because it did not meet certain conditions and all members of the Star Alliance had not approved of Air India's entry.
Jet Airways had earlier expressed interest in joining the alliance.
Lufthansa, the mentor airline in Star Alliance for Air India, has always maintained that more than one airline from one country can join the alliance.
However, the aviation ministry said it would look into Jet's entry only after a decision on Air India was concluded.
Before Air India's application was put on hold, it had paid 10 million euros (about Rs 71.5 crore today) since May 2008 to Star Alliance as part of the joining fee. Star Alliance is the largest of the three airline alliances in the world. The other two are SkyTeam and Oneworld. Star Alliance includes Lufthansa, Air Canada, Singapore Airlines and Thai Airways International.
A membership in the group ensures shared benefits to members and seamless travel to passengers, usage of frequent flier points redeemable with any member airline and global connectivity.
Facilities for Star Alliance members are located close to each other at airports.
The alliance network offers 21,200 daily flights to 1,356 airports in 193 nations.