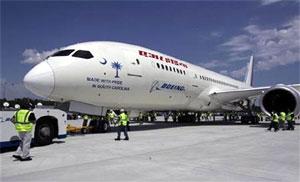 Air India is reviewing the performance of its Boeing 787 Dreamliner fleet to see if they are using up fuel faster than expected, but has no plans to ground the aircraft, the state-owned carrier's chairman said on Wednesday.
Speaking at an air show in Hyderabad, chairman Rohit Nandan told reporters that Air India believed the planes were heavier than originally promised.
The carrier is collecting 18 months worth of data up to November this year to gauge if the plane is using more fuel than originally anticipated.
"As far as the fuel efficiency is concerned, when Air India received these planes, even at that time, we knew that the planes were heavier than what they were originally promised to be," he said.
Nandan said that Air India had already received compensation from Boeing for delivery delays. He did not put a figure on the amount.
A series of operational problems have dogged the Dreamliner, a high-tech jet largely made of carbon-fiber composite that is supposed to cut fuel consumption, since its delayed launch in 2011.
Nandan said he had been reassured that the glitches had not impacted safety. "These incidents are not unusual in a new fleet, in a new aircraft," he said.