As part of its asset monetisation drive, Air India has put properties, including four flats at Pedder Road in Mumbai and a land parcel in Gurgaon, on the block. It is expected the sale of these properties would fetch the airline about Rs 55 crore (Rs 550 million).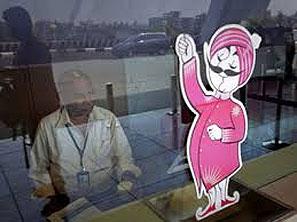 Earlier, its attempts to monetise properties, including the 22-storeyed Air India building in Nariman Point, saw lukewarm response. State Bank of India had taken 54,000 sq ft across four floors on lease.
However, securing more lessees has been difficult, owing to falling rentals in Nariman Point and the airline's set bid price of about Rs 300 a sq ft.

Under the latest drive, Air India has put four of its three-bedroom apartments in Pedder Road up for sale. These apartments, 2,160 sq ft each, are located in Sterling Apartments. Sources said Pedder Road commanded prices of Rs 50,000-55,000 a sq ft.
The airline is also looking to sell a land parcel of 420 sq metres (4,519 sq ft) in DLF phase-III, Gurgaon. Residential prices in this region are Rs 12,000 a sq ft. Air India would sell the properties through an e-auction process, according to an advertisement in major dailies. It has appointed DTZ as real estate consultant for the sale.

The company has formed a three-member committee to monitor the auction process. The committee comprises retired Supreme Court judge D N Dharmadhikari, former chief vigilance commissioner Pratyush Sinha and former comptroller and auditor general V N Kaul.
The airline plans to earn about Rs 1,200 crore (Rs 12 billion) through monetisation of properties.

It also plans to sell properties at the Air India Colony in Kolkata and Coimbatore, besides land in Chennai and apartments in Hong Kong and Nairobi.

Monetisation of assets is part of Air India's financial restructuring plan. Earlier, it was planned the monetisation programme would be completed through 10 years, at Rs 500 crore (Rs 5 billion) a year. Recently, the airline's board decided to complete the asset sales by March 2016 and use the proceeds to service debt.