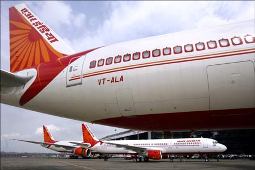 Air India's plan to cut its 27,000 workforce by offering a voluntary retirement scheme is stuck in North Block, with the finance ministry questioning the rationale.

The VRS scheme is stuck in the finance ministry over the payment of Rs 1,200 crore (Rs 12 billion) for it.

The ministry has pointed out that 7,000 employees would retire from service over the next three years and another 12,000 would be transferred to the ground handling and engineering subsidiaries", Air India sources said.

This means only about 8,000 employees would be left with the carrier over the next five years, as it has not been hiring for the last couple of years.

The finance ministry does not see any rationale in coming out with such an offer
at this stage, the sources said, adding Air India requires the nod of this ministry and the department of expenditure before it comes out with the offer.
The airline had in September approved the VRS package for all its permanent employees who had served for 15 years or were at least 40 years of age.
The proposed scheme targeted a total of 5,000 employees.
However, licenced category employees, like pilots, aircraft engineers, simulator maintenance engineers, approved flight dispatchers and service engineers would not be eligible for the scheme.
The scheme envisages a compensation for 35 days for each completed year of service and 25 days for each year of service which remains.
The carrier also aims to reduce its annual wage bill by Rs 375 crore (Rs 3.75 billion) annually over the next five years, once a VRS is doled out to its employees.