Star Alliance on Friday said its member airlines had unanimously decided to resume the process of integration of operations with Air India.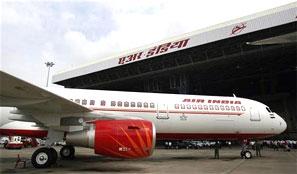 Chief executive officer of Star Alliance Mark Schwab, after a board meeting with member-airlines in Vienna (Austria), said: "The market in India is now showing signs of stabilisation. Today, we see an Air India that has successfully completed its merger with Indian Airlines and is building a new fleet that forms the basis of a much improved level of service. This is why we believe the time is now right to recommence the integration process."

No date has been announced for Air India's induction into the club of more than 28 leading carriers, including Lufthansa, Singapore Airlines and Air Canada.
Beginning next week, Air India and Star Alliance executives will prepare a road map for the induction. This would include trials involving check-in systems, reservation systems and frequent-flyer programme. Staff training, too, would be carried out.

The national carrier was originally accepted as a future member of Star Alliance in December 2007, but the integration process was halted in July 2011 because it did not meet performance parameters. The relationship between Air India and Star Alliance deteriorated after the alliance also decided to support the entry of Jet Airways into the club, which was vehemently opposed by the state-owned airline. With the breakdown of the talks, Air India pointed fingers at Lufthansa, the mentor airline.

Aviation experts said the ministry of civil aviation even arm-twisted the German carrier to pave Air India's entry into Star Alliance.

The ministry threatened to ground flights of Swiss and Austrian airlines to India, citing violation of "ownership" clauses, as Lufthansa had picked up majority stakes in both, sources said.

The issue over the German carrier using bilateral rights entitled to Swiss and Austrian airlines by means of acquisition was raised, analysts said, to push Lufthansa in facilitating Air India's entry into Star Alliance. Rohit Nandan, chairman and managing director, Air India, said, "Today is a historic day for Air India. The decision to recommence the Star Alliance integration process will be beneficial for both sides."

Star Alliance is the largest of the three airline associations in the world. The other two are SkyTeam and oneworld. Membership in the 28-member Star Alliance would ensure shared benefits to Air India and seamless travel to passengers, redemption of frequent-flier points with any member-airline and better global connectivity. Star Alliance members include Lufthansa, Air Canada, Singapore Airlines and Thai Airways International.

According to data with the Centre for Asia-Pacific Aviatin (CAPA), while Star Alliance has a share of 12.9 per cent in global air traffic industry, oneworld and SkyTeam have market shares of 10.1 per cent and 6.6 per cent, respectively. The alliance network offers 21,900 daily flights to 1,328 airports in 195 nations. The alliance carried 727.42 million passengers on its network last year.
Schwab said: "Star Alliance has long held the opinion that India is such an important aviation market that it should be fully represented in the alliance. However, the level of change in the domestic market in recent years did not make it easy for an airline to become an alliance member."

Star Alliance has been looking at inducting a member airline in India to increase its share in the 37-million-passenger international travel market in the country. The board of the 28-member Star Alliance met in the Philippines in June to discuss the growing presence of West Asian airlines in Indian skies and to consider a potential membership for Air India.
The board meeting came close on the heels of Abu Dhabi-based Etihad Airways announcing its decision to pick up a 24 per cent stake in Jet Airways and the Indian government tripling air traffic entitlements to 50,000 seats a week to the UAE (Abu Dhabi) over three years.

Air India could not join the alliance earlier, as it was grappling with challenges such as repeated strikes by pilots, shrinking market share, worsening on-time performance and the merging of codes of the erstwhile Indian Airlines with Air India's. Before Air India's application was put on hold, it had paid Euro 10 million (about Rs 71.5 crore today) since May 2008 to Star Alliance as part of the joining fee.

While Lufthansa and other board members were keen to admit Jet Airways into Star Alliance, alongside Air India, the national carrier had opposed the move as it would lose the first-mover advantage. Jet Airways and Lufthansa were working out a wider partnership. Jet received an in-principle nod from the civil aviation ministry for the code-share agreement. But the plan fizzled out after it began negotiating a stake-sale agreement with Etihad Airways last August.