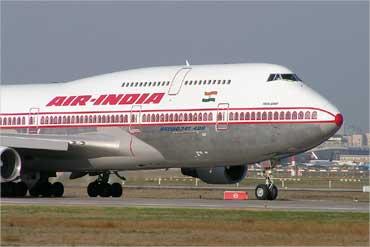 Air India is planning to introduce a new seating segment 'premium economy' on its domestic all-economy flights from the middle of this month at the cost of almost the lowest business class fare on a route.
These seats would be launched on some of its all-economy class Airbus A-320 aircraft on February 15 on the Delhi-Guwahati-Imphal sector, airline sources said.
With no business class on these planes, the premium economy seats would be located in the first two rows with the middle seat lying empty.
Passengers travelling in premium economy would be allowed 35 kgs of free baggage as against 20 kg for other economy passengers, besides making changes in travel date free.
They would also be given access to business class lounges and allowed to board the aircraft at their leisure. In addition, they would get a welcome drink, a cold or hot towel, choice of meals and reading material.
Making a bid to increase its loads, Air India has extended its discounted domestic airfares offer for two more days to join the second round of fare war launched by other carriers.
Under the scheme, it is offering 30 per cent discount on basic fares and fuel surcharge. It would be on offer till February 6 and valid for travel from March 3.