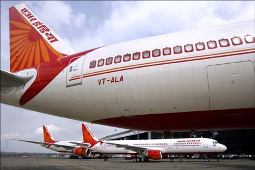 Refuting claims of a section of Air India pilots regarding delayed salary payments, Civil Aviation Minister Ajit Singh said on Monday they were getting their dues on a regular basis.

"Their salaries may be a few months late, but for many months they are getting paid regularly.

"They are being paid salaries regularly for the past five-six months.  They are being paid every month now," Singh told reporters.

A senior Ministry officer later claimed the salary backlog had been cleared till August.

The minister was replying to questions raised by the Indian Commercial Pilots Association comparing their financial condition with those of Kingfisher employees.

Singh also said he had not received any letter on the issue from the ICPA which claimed to have sent a communication to him.

Air India has a total of 1,400 pilots of which about 600 owe allegiance to the ICPA.

The ICPA had sought Singh's
intervention in resolving their grievances relating to pending salaries and allowances, saying that 'matters at Air India were not too different from Kingfisher Airlines' which is undergoing a severe financial crunch.
"Our salaries and flying allowances too are pending for months and the uncertainty regarding the schedule of payments has become unbearable," ICPA general secretary Captain T Praveen Keerthi said in the letter.
He also said that "an unsatisfied employee cannot keep up efficiency for long as his financial worries take over his thought process.
A stressed pilot is a potential disaster in waiting," he said, adding that an Air India engineer too had committed suicide last year due to financial worries.
"We appreciate your understanding of the fact that flight safety is affected if employees have not been paid for several months. We humbly request you to kindly intervene at the earliest and restore normalcy in our lives which unfortunately has been lacking for past three years," Keerthi said.