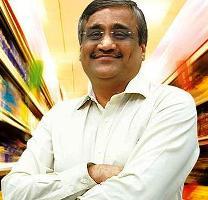 After setting up neighbourhood food and grocery stores, Future Group founder Kishore Biyani is considering opening compact neighbourhood stores for apparel, under the Fashion at Big Bazaar brand.

Fashion at Big Bazaar is a value fashion brand from the Future Group present across the group's Big Bazaar hypermarkets. Many of these stores are standalone ones.

The stores, each with a size of about 4,000 sq ft, would compete with local apparel stores. These stores would be launched in metros, as well as in smaller cities.

"While large, standalone Fashion at Big Bazaar stores are inside malls, the convenience stores would be located in residential areas and markets," said a Future Group executive.

"The idea is similar to that of Japanese brand Uniqlo (Japanese apparel brand)," Biyani said, without divulging the details. Uniqlo has these convenience stores called UT Project.

These sell T-shirts designed by artists, musicians, etc. The T-shirts are stored on open shelves.

For the initiative, the group has already carried out pilots across cities. It plans to open these stores soon.

Details of the plans, as well as the investment planned, couldn't be ascertained.

According to sources in the group, such stores typically cost about Rs 70 lakh (Rs 7 million), or Rs 1,700/sq ft.

Analysts say in India, the small format is struggling due to high overheads and lower walk-ins.

"Small-format stores are not working in the country. In smaller stores, you keep out many things.

"To attract families, these have to be destination shopping centres, where you sell everything," said Abneesh Roy, associate director (institutional equities-research), Edelweiss Securities.

The Future Group has neighbourhood grocery stores called KB's Fair Price; most of these stores are located in Mumbai, Delhi and Bengaluru.

These sell staples, fruits, processed foods, etc. Currently, there are 200 such stores.

The group plans to open 1,000 such stores in the next couple of years.

WHAT TO EXPECT. . .
• The stores will have a size of around 4,000 square feet and sell basic apparel such as T-shirts, kurtas and so on
• Apart from big metros, the stores will also come up in smaller cities
Image: Kishore Biyani; Photograph: Courtesy, Future Group