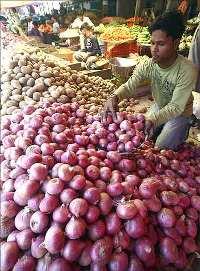 Even as inflation showed a decline, India Inc today said supply-side constraints should be addressed along with implementation of recent Budgetary proposals for the agriculture sector to check food prices.

Inflation dipped to a five-month low of 5.19 per cent in July mainly on account of decline in prices of some food articles, vegetables and protein rich items.

It was at 5.43 per cent last month and 5.84 per cent in July 2013.

"Inflation continues to be a concern as prices of food articles are still elevated. Amidst the current situation, it is amply clear that Reserve Bank will maintain a watchful stance going ahead," Federation of Indian Chambers of Commerce and Industry president Sidharth Birla said.

"However, we hope that due focus will be given on the implementation of measures announced by the government to tame food prices. Also, it needs to be assured that the industrial growth is not stifled and recent momentum seen in Index of Industrial Production numbers is kept pace with," he added.

"Prices of primary and food articles remain a worrying area about inflation. Deficient rainfall coupled with inherent weaknesses in supply management need to be addressed," Assocham President Rana Kapoor said.

"While food inflation may not be a function of interest rates, the monetary authorities do get greatly influenced by it, since the issues relate to common people," he
added.
Inflation in the overall food articles basket, which account for 14 per cent of the total Wholesale Price Index, stood at 8.43 per cent. It was at 8.14 per cent in June.
However, Confederation of Indian Industry Director General Chandrajit Banerjee said: "It is anticipated that food inflation would come down in the coming months considering that monsoons have started picking up pace, and the rain deficiency has come down significantly."
Besides, the recent initiatives taken by the government to contain inflation would act as a lever to tackle inflation and curb inflationary expectations, going forward, he added.
"The recent announcements made in the Union Budget to improve agriculture infrastructure would go a long way to facilitate farm produce to deliver at consumers' doorsteps," PHD Chamber President Sharad Jaipuria said.
The Reserve Bank in its monetary policy review last week had cautioned that continued uncertainty over monsoon could stoke food inflation, but expressed hope that the government policies will improve supplies in the coming months.
Retail inflation data for July, released earlier this week, showed a marginal rise to 7.96 per cent.
"The fact that core inflation is lower is reassuring but we can see that the food prices are still above comfort level.
As has been the experience, the movement in food prices continues to be dependent on whether a normal monsoon will materialise in time to take effect," Senior Director at Deloitte India Anis Chakravarty said.