The Asian Development Bank (ADB) on Friday cut India's growth forecast to 5.4 per cent in 2012-13 fiscal, barely two months after it had made a projection of 5.6 per cent growth for the Asia's third largest economy.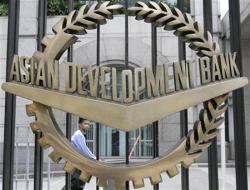 "India's growth forecast is revised from 5.6 per cent to 5.4 per cent in fiscal year 2012 and from 6.7 per cent to 6.5 per cent in FY 2013," ADB said in its supplement 'Asian Development Outlook (ADO) 2012'.

This is the fourth time that the bank has slashed growth estimates for India.

In the ADO released in April, ADB had projected India to grow at 7 per cent. But it lowered its estimate to 6.5 per cent in July and further to 5.6 per cent in the ADO October update citing falling global demand and impact of delayed monsoon on agricultural production.

As regards developing Asia, which comprises 45 nations, ADB lowered its 2012 growth forecast marginally to 6 per cent from 6.1 per cent. It also revised downward the growth outlook for 2013 to 6.6 per cent from 6.7 per cent projected earlier.

The growth performance in the developing Asia has remained subdued so far with downside developments slightly outweighing positive events, ADB said, adding "the region should pick up steam in 2013".

India's economy has slowed in the recent years on the back of both domestic and global factors.

Economic growth fell to a nine-year low of 6.5 per cent in the 2011-12 fiscal and is expected to be 5.8
per cent in the current fiscal, according to RBI estimates.
In the first half of the current fiscal, the economy grew by 5.4 per cent, against 7.3 per cent in the same period last fiscal.
The ADB in its October update had said that India can reverse the trend of falling growth by promoting economic reforms and taking steps to improve investment climate.
The government in the past couple of months has taken a host of initiatives, which included allowing 51 per cent FDI in multi-brand retail and hiking foreign investment cap in the insurance and pension sector to 49 per cent.
Besides, it also allowed foreign airlines to pick up stake in domestic carriers, besides liberalising norms for information and broadcasting sector.
Further, the government had hiked diesel prices and also limited the number of subsidised LPG cylinder to six per year per family. It has identified a host of PSUs for disinvestment to meet the target of Rs 30,000 crore in the current fiscal.
These measures are expected to revive market confidence and restore growth momentum.
The government, along with the RBI, has also taken measures to control inflation. The WPI inflation, which had remained in double digit for most part of 2011, stood at 7.45 per cent in October. However, inflation still continues to remain above the RBI's comfort level of 5-6 per cent.