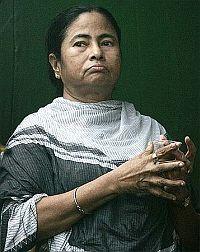 West Bengal Chief Minister Mamata Banerjee on Friday said that the Aadhar card must not be made compulsory to receive LPG gas subsidy and called for immediate review of the Oil Ministry's move.

"Aadhar Card must not be made compulsory. Only 15 to 20 per cent of the people have received the card," Banerjee told reporters at the state secretariat in Kolkata.

"I am told that there is a verdict of the Supreme Court that it cannot be made compulsory by the government for obtaining benefits and subsidies," she said.

"I do not know how the government is violating the order. The government should immediately review the decision," the chief minister said.

Reacting to an advertisement given by the Ministry of Petroleum and Natural Gas in Friday's newspapers linking LPG subsidy to Aadhar card for Kolkata, Howrah and Coochbehar districts with immediate effect, she said, "I am really shocked to see this attitude of the (central) government."

"I am requesting the Prime Minister to look into the issue," she said.

"People are not beggars, one party will not continue, but the government will continue.

"The government must take care of the people," she said taking a dig at the UPA government at the Centre.

Stating that many people have not yet got the card and were being harassed by government agencies, Banerjee said that the Centre should make a single identity card which would be common for all purposes.

"At present there are so many identity cards issued by the government, from ration card to pan card to Aadhar card, that people will have to hire a locker to keep all the cards," she said.

She also warned that if required, the Indian Oil Corporation regional headquarters in Kolkata might be gheraoed.

"I am not saying this as the chief minister, but on behalf of my party," the Trinamool Congress supremo said.

She was also critical of the Petroleum Ministry's recent letter to state governments to make one day of a week to be bus day for all officials and to change office timings to cut down on fuel bills, saying "Will these (measures) solve the problem?

"The government must not take such a hasty decision."
Image: Mamata Banerjee