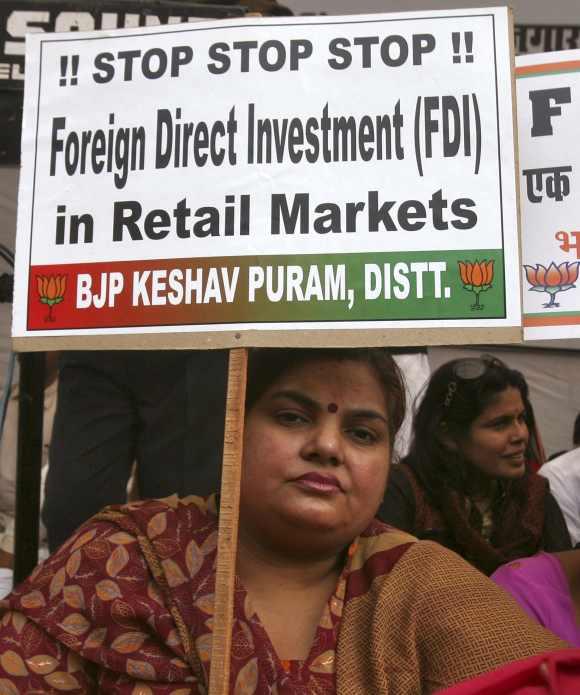 It is not too late for the BJP to explain that its opposition for FDI in mutli-brand retail will not be operationalised as policy if it forms the government.
The election manifesto of the Bharatiya Janata Party (BJP), which has finally been released, contains one clause that has alarmed many.
The party has reiterated its opposition to foreign direct investment (FDI) in multi-brand retail. Opening up multi-brand retail to foreign investment was a decision taken by the United Progressive Alliance government in spite of the vocal opposition of some members of the coalition; the Trinamool Congress left the alliance over it.
Eventually, the version of the liberalisation that was passed and notified was weaker than it should have been, leaving the decision to open the sector up to the states and imposing many restrictions on foreign companies.
However, it was a vital step forward.
The vocal threats by BJP leaders that it would be reversed, and the mention of opposition to the measure in the party manifesto, have caused many to worry about the party's stance to foreign capital as well as to other existing decisions.

Good economics does not drive the BJP's position on this; populism, fuelled by vote bank politics, does.
A party that has traditionally drawn much strength - economic and organisational - from small traders finds it impossible to tell this constituency that multi-brand retail is the future.
This is in spite of the fact that organised multi-brand retail helps both consumers and farmers; it reduces prices that consumers face, and allows farmers to cut out several middlemen, thereby increasing their returns. Given that inflation is a continuing macroeconomic problem, it is irresponsible for a party to turn its back on one major method of improving the supply chain.
In any case, multi-brand retail is already permitted for domestic players. Banning FDI merely means that existing domestic players will not face healthy competition - so, even if the BJP wishes to please its base, it is doing it wrong. The party has a history of fighting foreign investment.
It famously campaigned on "FDI in computer chips, but not in potato chips" in the past. It has held up FDI in the insurance sector, too - something needed to improve the pool of investible funds in a slowing economy. And now it has adopted the same attitude towards FDI in multi-brand retail.

This is poor signalling by the BJP. The manifesto, as it is, is not notably reformist.
To single out a particular reform in this manner will not reassure those hoping for a sensible degree of policy continuity. This is in spite of the fact that the party's nominee for prime minister, Narendra Modi, told a group of traders not so long ago that they could not fight modernisation and competition.
That was in reference, it is now clear, to competition for online retail only; foreigners are still not acceptable as competition. It is not too late for the BJP to explain that its opposition will not be operationalised as policy if it forms the government.
After all, the existing policy has more than enough safeguards built in. To continue to oppose it even when the decision has been handed over to the states seems to make very little sense