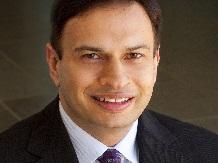 Cognizant Technology Solutions has cut its revenue growth estimate for this year from 16.5 per cent to 14 per cent.

Rajeev Mehta, chief executive for IT services, believes this is due to a few client-specific issues, saying the overall business environment continues to look good.

In an interview with Business Standard, he talks about client-specific issues, new orders and employee-related issues such as wage rise and attrition.

Excerpts:

What are the primary reasons why Cognizant cut its growth estimate?

We have revised our guidance primarily due to two issues impacting us this year.
First, some large deals we announced recently have a longer sales cycle; second, a handful of our accounts have had leadership changes and the new leadership will take some time to look at re-evaluating budgets.

These are the reasons why we are anticipating some delays.

But we have very strong relationships in these accounts; so, in the long run, there is no concern.

Additionally, we are still seeing a very healthy demand environment in the overall market.

What are the sectors in which there are client-specific issues?

Some of these are in the financial services segment, while some are in retail.

How long will these problems persist?

I think right now, we are going through a cycle. I expect things to move in a positive manner. It is hard for me to say how long it will take because we have not seen the 2015 budgets for these accounts.

But our relationships are very strong and so, we are very optimistic.

Several of your peers have raised concern in the retail sector. Do you think it is sector-wide phenomenon or limited to some clients?

It is client-specific.

I think overall, the retail segment looks quite optimistic, as there is a lot of spending, especially in the e-commerce segment.

Also, there are a lot of deals in this segment. But we do have situations in which a handful of accounts are going through a re-look -- budget and re-prioritising.

This quarter, you saw weakness in the UK.

In the previous quarters, we had seen good growth in the UK and Europe. In this quarter, there were some client-specific issues. Clients in the retail and financial services spaces have had problems.

Overall, we are seeing a lot of opportunities in Europe.

On Wednesday, you announced three deal wins.

The total contract value of all the three is $3.5 billion.

The deal with Health Net, worth about $2.7 billion for a period of seven years, is the largest deal in the history of Cognizant.

It is a landmark deal, not just in terms of what it means for us, but also in terms what it means for the health care sector.

All these three orders should give us at least $200 million of incremental revenue in 2015. I can't say by when the revenue from these deals will start flowing, as we are waiting for some regulatory approvals.

This month, you gave increments to your staff.

We pretty much stayed with the overall sector. On an average, we gave close to about 10 per cent salary increment to offshore employees, effective July.

Your net employee addition during the quarter was quite robust. What are your hiring plans for the full year?

Last quarter, we hired 8,800.

That gives an indication of our growth expectations.

We don't give a forecast of the headcount.
But overall, we are looking to hire, as we continue to feel we are in a very strong market, even as there are a couple of client-specific issues.


Image: Rajeev Mehta; Photograph, courtesy: Business Standard