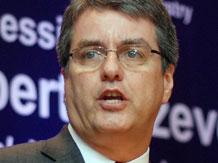 World Trade Organization director general Roberto Azevedo says the very fact that all the key member countries have agreed to discuss the food security proposal, which seeks to make prohibitive subsidies legal, is an achievement for India since it together with other developing countries pushed for it.

In an interview with Business Standard, the DG lauds the efforts of Indian negotiators in bringing the deal on the table. Excerpts:

Now that you are meeting political leaders and visiting capitals, do you feel there can emerge a positive outcome in the upcoming Bali meet?

It is certainly doable. Over the last month or so negotiations have proceeded at a pace and level of engagement that has not been seen for many years.

Governments have shown a willingness to compromise, trust has been rebuilt and gaps narrowed.

But there remains a good deal to be done and we have only a few weeks to find the landing zones that will enable a deal.

There is nothing on the table currently which would create huge political problems for any of our members.

No country's national interests are at stake.

But there are always political constraints.

This is why it is so important that capitals are intensely involved in our work over the next few weeks.

Without the involvement of ministers this deal will not get done.

You said last week much progress has been made from 2008 till now on food security concerns raised by India and other developing countries. So are countries now ready to negotiate the proposal that was floated by the G33?
Yes they are, and this represents a real success for India because this was certainly not the case a year ago.

It was agreed a couple of weeks ago that we did not have time to strike a deal on a complex formula involving inflation indexing, shifting baseline years or other methods for calculating levels of support for agriculture.

What was agreed was that members would pursue agreement on a peace clause or due restraint agreement which would provide breathing space for countries to explore these issues further and negotiate.

So will it be correct to say that food security is going to be discussed in the Bali ministerial?

Of course it will be discussed.

It has been discussed for months and it is hard to imagine how we could get a deal by Bali which does not include the issue of food security.

Indian negotiators have done very well in explaining the importance of this issue for them and their people.

The precise form an agreement takes remains to be decided, but the very fact that this issue is central to the negotiations is a remarkable achievement for India.

In your address to Indian industry chambers you said an outcome on Trade Facilitation Agreement is required to keep the relevance of WTO and the multilateral trading system, but countries today are more interested in regional arrangements?

This is precisely my point.

Countries have other options.

I was at APEC before going to Delhi and I can tell you that many ministers there were involved in regional negotiations.

All of them say that these options are second best to a global deal which covers more topics and more countries.

But they have become frustrated by the lack of progress in Geneva so they have turned their attention elsewhere.

Yet if we can reach a deal on the Bali package, if we show we can achieve results, that attention will again be focused on the WTO.

This is not to say there won't be regional arrangements as well and there is nothing wrong with this.

Such agreements can complement our work here. But first we have to deliver.

Will Bali ministerial, if it delivers an outcome on TFA, run the threat of overriding Doha Development Agenda?

A Bali agreement would not be the end of the road.

It would be a stepping stone to the rest of the Doha issues.

The precise shape of the post-Bali Process has not yet been defined but we already know some of the elements.

A long term solution to the question of food security for instance, would be one element that would be taken up after the ministerial (in Bali).

There could be some elements of the trade facilitation negotiations that would have to be taken up and fleshed out next year.

What is clear is that in pursuing the rest of the Doha agenda we cannot follow the same path we have been on for the past 12 years.

We will need to be creative and flexible.

I have some ideas and I will share them with the membership when the time is right.

But it is difficult to see how we can take up the rest of the Doha round if we cannot agree on the issues in the Bali package that were deemed to be achievable.

Developing countries want more flexibility in TFA than what is there now to offer. Is there a possibility of change?

The key is to reach agreement.

We have a bit of chicken and egg situation at the moment where developed countries say they are prepared to provide technical assistance and grant transition periods but they want the assurance first that emerging countries will take on the binding disciplines.

Developing countries say that they are prepared to take on these binding commitments but first require the assurances that special and differential treatment and technical assistance will be forthcoming.

It's a bit tricky to find a solution but it can be done.
Image: Roberto Azevedo; Photograph, courtesy: Business Standard