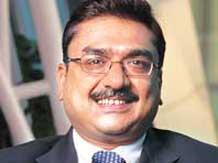 After spending 20 years at HCL Technologies and heading various service lines, Anant Gupta on Thursday assumed the role of president and chief executive officer.

Gupta, who will succeed Vineet Nayar, says it's 'business as usual' for him. In an interview to Business Standard, he talks on the strategy for the next phase of growth.

Edited excerpts:

What are the new responsibilities this new role brings with it?

I would say it's business as usual.

Most of the changes that were supposed to be done were done in July when all businesses were aligned.

My portfolio has obliviously expanded over a period.

When I was given the responsibility of global service delivery and subsequently all service operations, most of the day-to-day operations of the business were pretty much aligned.

After today's announcement, what will be Vineet Nayar's role in the company?

Vineet's continues to play the role of mentoring our leadership and handles significant client relationships.

He will continue to play the role that he was playing for the last six months.

He will continue as the vice-chairman and the joint managing director of the company till July 2013 and as vice-chairman thereafter.

Is there going to be a change in the company's strategy under your leadership?

Whatever strategies we have in place and have evolved over a period of time proving those successful, will continue to be there.

There are certain areas where we are fairly strong.

We will further strengthen our positions in those areas with aggressive strategy.

We continue to remain focused on the clients we want to work with and the markets where we want to focus on.

All these will continue, but just that we will become more aggressive in the market place.

We will continue to spot emerging trends in the market and translate them into business.

Which are the areas where you want to become more aggressive now?

Our strategies are fairly clear. We will continue to respond to changing dynamics in specific markets.

The kinds of engagements we are getting into with our customers are requiring us to deliver more than one service line.

So, we will focus on industrialising our interfaces so that we would be able to cross-sell and deliver to our customers' multiple service lines.

In terms of market, we have made a good amount of investments in Continental Europe where we are seeing good win rates now.

Are you planning to change the organisational structure of the company?

The organisational structure we have today has worked very well for us.

The structure gives us a very sharp focus on the horizontals which is the service lines and verticals and geographies on the other side.

But as the market evolves, we will industrialise the interfaces between the multiple lines of business.

With the news of management change, there are apprehensions among the employees that the company may move away from its 'employees first, customer second' focus?

No.

Our 'employee first' initiative is not just a philosophy.

It has resulted in tangible benefits for the company, may it be in profitability or creation of value for the customers.

It has worked very well for us and it will continue.

We will continue to evolve it as the markets shape up, but the core tenants would remain the same.

Talking about the industry, we are finding the top two companies talking about the demand environment in different languages. What are your views on the demand?

The demands which are not dependant on discretionary spending continue to remain very strong.

We see a huge market available over there. We see great opportunities in segments such as software services where we are late entrant.

In general, there is huge pent up demand, the deal funnel is higher this year than the previous year.
Image: Anant Gupta