'The rejig would see overhaul of the entire company, including personnel management and deployment, structure, subsidiaries and financial allocation.'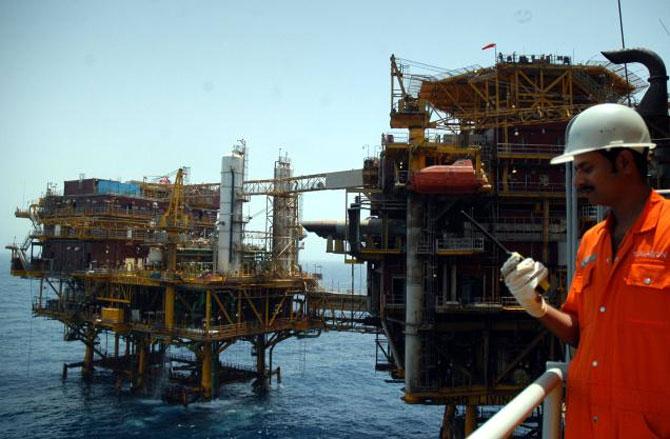 State-run Oil India Ltd (OIL) is set to usher in a new era with a road map drawn to ramp up production and diversification plans to foray into liquefied natural gas. The company's newly-elected chairman & managing director Utpal Bora, bottom, left, shares his road-ahead plans, views on subsidy burden on upstream companies and strategies for overseas expansion in an exclusive interview with Shine Jacob. Excerpts:
Your first priorities after taking charge?
This is a big challenge for me. My first priority would be to increase the production of oil and gas. Considering the increasing demand in the country, the government is looking at us to improve our performance in production.
My priorities also include expanding the business outside the Northeast. We are concentrated in Assam. We want to develop a major oil belt in Rajasthan.
We are also planning to have changes inside the company, especially in our governing style. Restructuring is already on and it will be so done as to suit the OIL environment.
The rejig would see overhaul of the entire company, including personnel management and deployment, structure, subsidiaries and financial allocation.
In 2015-16, for a fourth year on the trot, OIL has seen its crude output falling, to 3.2 million tonnes, six per cent lower than in FY15. Why and how do you plan to ramp up production?
Discoveries need to be monetised as fast as possible. First, we have to increase efficiency of the operation. My plan is to spend more time in the field, especially in Assam, to personally monitor the developments. We inducted some new rigs and oilfield equipment and are in the process of acquiring workover rigs, which will revive non-flowing wells.
The reason for drop in production is that these fields are very old, matured. A natural reservoir decline is happening in many and our first task is to arrest this. We have to achieve the target set by the government and then go for more. My plan is to first increase the efficiency of production, through close monitoring and supervision.
Keeping this in mind, we have prepared a capital expenditure (capex) plan of Rs 4,020 crore (Rs 40.20 billion) for 2016-17. Another Rs 6,000 crore (Rs 60 billion) will be revenue expenditure. Last year, the capex plan was Rs 3,900 crore (Rs 39 billion); we later revised it to Rs 3,500 crore (Rs 35 billion) and achieved Rs 3,600 crore (Rs 36 billion).
You took charge at a time of widespread protest in Assam against the auction of 12 small discovered oil and gas fields - which Oil & Natural Gas Corporation (ONGC) and OIL returned as commercially unviable - as part of the Centre's plan to attract private investments for developing 67 such discoveries across the country. Your take.
The issue is now settled. Everyone, who was protesting, is now convinced that further investment would benefit the state. Both OIL and ONGC have educated the public through newspaper advertisements.
In the coming auctions, we will participate. These are small and marginal fields. Of those in Assam, six were with OIL and six with ONGC. A total of 67 are up for grabs all over India - Rajasthan, Gujarat, Andhra, Tamil Nadu and in Bombay Offshore.
We plan to tie-up with some company, which can bring new ideas and technology. We are negotiating with both Indian and foreign entities for this and will finalise very shortly. It will be a joint bid, through a joint venture. We will be bidding for maybe two or three blocks.
I believe the change of policy from NELP (New Exploration Licensing Policy) to HELP (Hydrocarbon Exploration and Licensing Policy), through new terms and conditions, would attract more bidders.
Should upstream companies like ONGC, OIL and GAIL be relieved from the subsidy burden?
For all the upstream companies, there has been no subsidy during the past quarter because of the fall in oil prices. We'd definitely be happy if the subsidy burden is removed but it is the government's decision. The fall in oil prices is helping our country, as we are import-dependant. However, for OIL and ONGC, if the price falls below $40 a barrel, it is a tight position and our exploration activities will be affected.
OIL currently has presence in 13 countries. What is the way forward under you?
We are in the process of acquiring two producing assets in Russia, owned by Rosneft. It will be finalised by the end of this quarter. We will be constantly on the lookout for producing assets.
Image used for representation purpose only