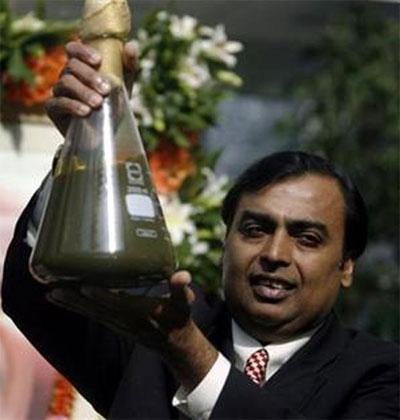 'We want to create more convenience to consumers. Good practices by all stakehoders are necessary. They have to create a good business model so that consumer will be at convenience.'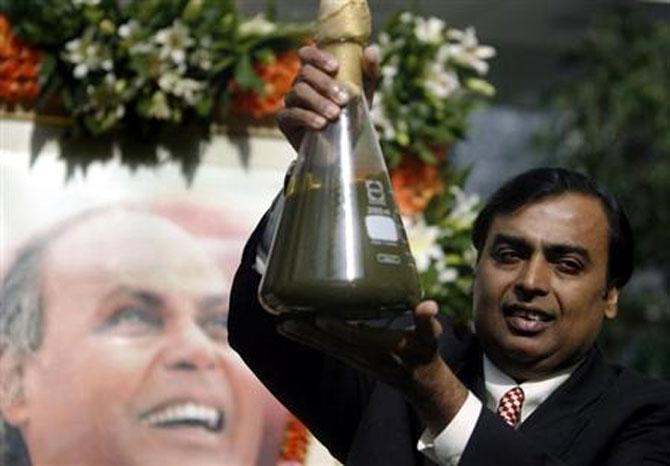 Immediately after taking charge as the Union petroleum minister in May 2014, Dharmendra Pradhan, bottom, left, had to deal with one of the trickiest of issues in the sector. State-owned Oil and Natural Gas Corporation had alleged Reliance Industries Ltd (RIL) had unfairly produced its share of natural gas in the Krishna-Godavari basin. Two inquiry committees later, the minister seems well on course to deal with the issue firmly. In an interview with Jyoti Mukul and Shine Jacob, Pradhan lays bare the next course of action for his ministry and says RIL will have to pay the same price at which it produced the volumes. Excerpts:
Why has the decision on compensation or penalty on RIL been again put off?
The quantity of gas migration is confirmed, based on DeGolyer and MacNaughton (D&M) report. But, they have only quantified the volume and not the value. Such issues are dealt with by the technical assessment wing of the ministry, the Directorate General of Hydrocarbons (DGH).
Hence, we have entrusted DGH with this work. Now, it will calculate the amount, based on the price of the day. They will do the necessary assessment and submit a report. The compensation will be based on the price of gas at the time.
Is the ministry in agreement that the money should go to the government and not ONGC? Will the government consider giving the money to ONGC since the company has laid claims to it?
As far as whether or not the money should go to ONGC is concerned, the (A P) Shah panel report has settled the issue, citing a Supreme Court judgement that rules natural resources belong to the government.
It was a judicial interpretation and hence, the question of who owns it and who does not own it should not arise. We have accepted the report in total.
As far as I know, ONGC is not thinking they should also get a share of the compensation that we get for the migrated gas. In what circumstances did it (migration) happen? Who is responsible for it? What was the role of DGH? All these issues were highlighted in the Shah panel recommendations and we should implement that.
What will be the mechanism for its implementation?
We are doing things in a transparent manner. I got the panel report at 4 pm on August 31, and we put it on public domain within hours. Since the court had asked us to take a decision within a month, we have taken a decision on September 30 to implement the Shah panel report in total.
All its suggestions will be implemented. Like its recommendation, I do believe that DGH needs to be strengthened. That will be done.
One of the government policy quietly implemented is the monthly increase in subsidised LPG and kerosene prices. What is the thinking behind it? Will the increases be like diesel till prices in these reach market parity?
We want to give kerosene to needy people. We want to target that consumer base. As of today, we have adopted this policy of small increases to reduce the subsidy burden. But one section of people has to be provided subsidised products.
Consumer data is maintained by the state government. Who is using kerosene? Do they have electricity or LPG? Kerosene is meant for poor people.
The same poor person is getting petrol or diesel but is he getting subsidy? The question is whether we want to create sustainable supply chain or a disruptive supply chain?
Every commodity has a price. In kerosene, there will be a subsidy. But it has to be revised from time to time.
In LPG, there is a fixed consumer base. That has been monitored and served by oil-marketing companies.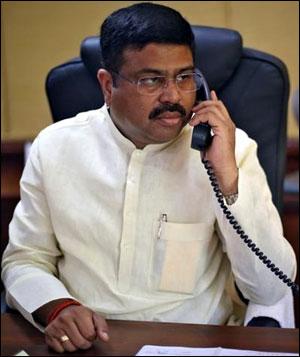 What has been the progress on direct benefit transfer in kerosene?
We are asking state governments to join this model and 75 per cent of the savings will be shared with them. We will be providing additional LPG connections to that state. The power-for-all programme, by the ministry of power, will ensure that kerosene for lighting is not needed.
Still, if some people need kerosene, the state has to quantify who they are and the subsidy amount should go to the beneficiary directly. Let us see how the states co-operate.
Certainly, the price will be market centric. So many states, such as Karnataka, Haryana, Chhattisgarh, Jharkhand, Madhya Pradesh and Gujarat, have joined this. The whole of Haryana is moving towards becoming a kerosene-free state.
If global prices continue to be subdued, do you see kerosene and LPG prices reaching the market parity price through the monthly increases?
I don't think so. For some sections, we have to provide subsidy in a country like ours. We want to create a debate, whether an affluent person should take the subsidy or not?
All this is part of many reforms, both upstream and downstream, that you have undertaken in the last two years. How do you plan to keep up the momentum?
We have initiated a nine-point reforms plan. The functioning of the management committees is a pro-active stand. There is ease of doing business among investors. The approval for extending licences of 28 small- and medium-sized oil and gas fields is a reform. It has to be ideal, principal-based and should be accepted by everybody.

As far as downstream is concerned, we have announced this year as the "Year of Consumers". Energy is an essential commodity in today's lifestyle for all kinds of citizens, for both the rich and the poor.
We want to create more convenience to consumers. New consumer-centric initiatives are being taken. Some are technology based and some are awareness campaigns. Good practices by all stakehoders are necessary. They have to create a good business model so that consumer will be at convenience.
Pradhan Mantri Ujjwala Yojana is one of the biggest programmes that you have initiated this year. What has been the experience and the consumer response, and what are the challenges that the scheme is facing?
LPG started in this country in 1955. From then to 2014, it got about 140 million consumers. In the last 27 months, we could get an additional 40 million new consumers. For 14 crore, it took 60 years. With a little above two years, we provided connections to 40 million new consumers.
In Ujjwala, we are planning to get about 5-crore new consumers. So, smooth delivery of new connections, hassle-free and transparent processes is the challenge.
Do you see any role for the private sector here? Can private companies in the sector can also be part of these initiatives?
In Ujjwala, some subsidy factor is involved. For private sector, they can do non-subsidised.
What is the response that you are getting for the small and marginal fields?
The response from road shows is very enthusiastic. People are looking into our data. I am hopeful about small and marginal fields.