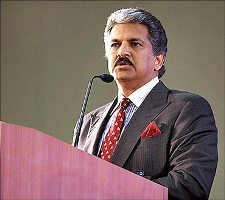 Mahindra Group on Monday forayed into affordable housing through its realty development arm Mahindra Lifespaces.

Chairman Anand Mahindra spoke to Business Standard.

Edited excerpts:

Affordable housing projects are said to have low return on capital. Do you think these projects are a worthwhile investment?

We have decided on the assumption that only if the return on capital of the projects meets our group targets, will we do it.

If they are executed according to the plan, the RoC will be better than traditional real estate projects.

The biggest cost in these projects is that of land. If land cost is higher, we will not do it.

Then comes the construction cost and other expenses.

Getting speedy approvals and development control rules become enabling factors for faster execution of projects.

How do you look at the timing of the launch given that the economy is on the mend and developers tend to shift their priorities towards premium housing as they believe people will buy high-end homes?

You are right.

So far, the problem with affordable housing has been that it is a low-priority business because it was seen as a low-return business.

But we will do more than adequate returns provided we execute efficiently.

If we can do that, not just us, a lot of new players will enter the business.

We will have to create the template.

The biggest differentiation here is that we have to get in all elements within budgeted targets, whether it is the cost of land or construction.

Many developers got into affordable housing but did not scale it up in a big way. How do you look at it? How will Mahindra do it?

We will execute it more like a manufacturing process.

One reason why developers haven't focused on this segment is that, if you look at the history of India, people sat on land for a long time as the profit is more.

There was never a disincentive to sit on land as appreciation was so high.

In other words, developers were unfamiliar with the whole process or business model of affordable housing.

The model is that of manufacturing.

If we can bring in manufacturing mindset to the business through execution of project and through real-estate development, we can succeed.

If other developers have to move, they need to move from the speculative mindset of appreciation of land to one of manufacturing mindset.

With Mahindra coming from a manufacturing background, we are uniquely poised to do that.

Will you look at replicating the projects in other cities as well?

If we don't do it, then what is the point? We will.

Success of these projects encourages other state governments to provide with the right environment.

But since land is a state subject, a lot depends on state governments. . .

There are so many things the Centre can do.

For instance, under Jawaharlal Nehru National Urban Renewal Mission, you create incentives and disincentives to access the funds.

You can create a carrot-and-stick policy like JNNURM.
Image: Anand Mahindra