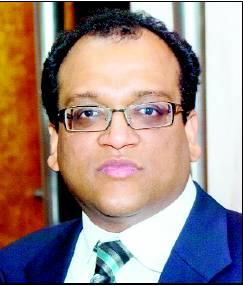 At a time when Emami Ltd is hitting the headlines with news on acquisitions and foreign ventures,
Aditya V Agarwal
, a director and one of the younger scions of the group, shares his thinking with
Shine Jacob
.
Edited excerpts:
As one of the younger-generation leaders of the group, how do you plan to carve a space in the global FMCG pie?
We are already a global brand, as our products are exported to more than 60 countries; some of them are leaders there.
Rather than being a big brand in the world, our focus is on India itself, as the country has big potential due to its market size.
In terms of the fast moving consumer goods business, India is still to touch the tip of iceberg.
If you see the scenario of personal healthcare products in other developed and developing countries, we are far behind.
With a growing economy and more money in the hands of consumers, the scope to grow is high.
For a company like Emami, with a strong distribution network and marketing and advertising team, chances of growth are higher.
We understand Indian consumers, in and out.
What is the way forward for Brand Emami?
It is an ongoing process. In this dynamic world of marketing, for any brand to succeed and do well continuously, it should have to undergo this change regularly.
Makeover happens mainly in two things, packaging and communication.
If you see successful brands and look into the history of their packaging and communication, not only Emami, but others also have changed with time.

But marketers should be careful, in that this changeover should not come to the consumer as a shock.

They should maintain the right balance, so that the connection between  consumer and brand is there.

The brand and the consumer should feel they are holding each other's hands and walking along.

Do you need to tweak your supply chain for a makeover?

The supply chain is a back-end process and it has to change in line with the need of the business. Its role ends there.

We are more of a brand company; hence, marketing and distribution drives the business. Though other functions are important, it should follow the needs of these two.

To penetrate more into the rural parts, have you charted any strategy?

Let's first break this myth of rural and urban India. In metros, too, there are people whose purchase pattern and mindset is rural.

It's important for firms like us to market our products to these sections. If we can communicate with them, the supply chain will automatically fall in place.

A proper strategy is needed for this.

For example, the film Three Idiots attracted both rural and urban India, while many films are unable to do it.

So, a brand should be close to the hearts of the public.

Regarding the pricing, it should depend on what consumers are looking for and what is the brand's target audience.

For us, to communicate to all sections of people is a major challenge.

You acquired Himani in 1978 and appear to show a preference for inorganic growth. Is acquisition the only way to grow in the FMCG space?

Acquisitions are very important nowadays for any company to multiply its growth. We had been able to acquire businesses and turn it around for us.

There are many examples like Himani, the retail and paper business and Zandu.

All of them are successful, not only on the mode of acquiring it but also in merging and using them optimally with the current business.

This history is giving us more confidence to work upon more acquisitions.

So, what about your acquisition plans now, including the much-talked bidding for Paras Pharma? How is Paras going to help your overall business?

We cannot divulge, as the process is in its final stage. If it didn't help our business, we would not have been bidding for it.

What are your diversification plans?

We will look into a business on the basis of opportunity; if we have a scope, we will take it.

Currently, cement, edible oil and power are what we looking aggressively at, as part of diversification.

Among many other options, coal is there. (The firm is looking at opportunities in Indonesia and Mozambique in this sector).

The bio-fuel business also has an immense scope. But in India, the situation is bleak, due to some government policies.

As a result, we are not working too aggressively on it.

What are your Africa plans?

Our group already has about 100,000 acres used for cultivation in Africa (for edible and non-edible oil seeds and cereals like gram, maize, sunflower and soya, and jatropha). Talks are on for a paper and power plant.

We have operations in many countries there, including Ethiopia  and Egypt.

Our challenges there are the political scenario, safety of the people working, market situation and logistics.

Five years from now, where do you see the Emami group?

Our turnover now is Rs 3,000 crore (Rs 30 billion).

After five years, I hope it would be Rs 10,000-15,000 crore (Rs 100-150 billion). Regarding the FMCG business, our turnover is Rs 1,000 crore (Rs 10 billion) now.

We are expecting to post 25-30 per cent growth per year.

This is just organic growth. For example, if Paras happens, it would add an extra Rs 1,000-2,000 crore (Rs 10-20 billion) to our figures.
Image: Aditya V Agarwal