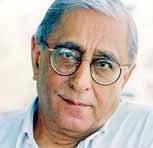 Ranjan Kapur has been country manager of WPP in India for the last eight years.

But he gets back to actively managing operations at an agency with the additional responsibility of Bates India as its chairman.

This task is in no way easy given that Bates has seen some high-profile exits in recent months.

But Kapur, who has spent 46 years in advertising, is not one to give up easily. He speaks to Business Standard.

Edited excerpts:

While you have been appointed as chairman of Bates now, your association with the agency actually goes back a long way.

That's right. I unofficially began working with the regional management of Bates after I stepped down as executive chairman of Ogilvy & Mather in India at the end of 2003.

It was a tiny little agency then, which reminded me of Ogilvy of the old days.

Ogilvy was tiny too, which grew to be big subsequently.

I worked with Bates then on the sidelines, and it was fun.

Unlike other agencies, 60 per cent of Bates' revenues come from businesses that sit outside advertising.

What is your vision for Bates?

What we will do will be discipline and media neutral. So when you are thinking of an idea, creative people, for instance, will be encouraged to go beyond TV and print.

We are integrating teams so that members of different disciplines can work together.

All of this is geared to achieve what we call change-engage.

That is the ability to have a dialogue with consumers.

And you can do this across media and disciplines.

This actually helps you because you don't fall into the trap of being a TV or print or digital agency, you are an all-rounder.

Integration is a language that many agencies are now speaking. But has Bates been driven to do this because its strengths lie less in advertising and more outside of it?

This is the future.

In the last eight years as country manager of WPP in India, I have encouraged non-advertising companies from the group to come here rather than advertising agencies.

Either we buy or we ask some of our worldwide brands to set up base here, all of them in the non-advertising space.

In all, we have 63 WPP companies across disciplines in India, which is huge. Our rivals would have a fraction of that.

Advertising is a large segment here, there is no denying that.

But the high-growth areas are in non-advertising.

Have you identified who will take over as CEO and chief creative officer following the exit of Sandeep Pathak (group CEO) and Sonal Dabral (chairman & regional executive creative director) respectively from the agency?

We have shortlisted candidates. But we will be brave in our choices.

We are not looking at a dyed-in-the-wool advertising guy for these positions.

In a market like India with its emphasis on advertising, this is certainly not easy.

But the departure of two people is not a loss for us.

Was this the problem with Pathak and Dabral that they were dyed-in-the-wool advertising guys?

Yes.

That was the issue.

They were not in sync with the change-engage philosophy that we were propounding.

If you are at the helm of an agency, you have to believe in the agency's philosophy. Otherwise it simply doesn't work.

Dheeraj Sinha, regional planning director at Bates, has worked closely with you on the change-engage philosophy. Do you see him leading the agency in  the future?

Dheeraj is the architect of the change-engage philosophy. He brings continuity and knows all the clients.

They love him.

But as far as leading the agency is concerned, I cannot say anything at this stage.
We are looking at all options.
Image: Ranjan Kapur