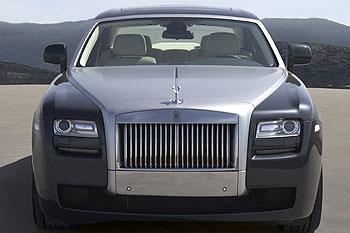 Super luxury car manufacturer Rolls-Royce sold 80 cars in India last year. Though the numbers are, at present, not comparable with sales in North America and China, the company's sales volumes grew six-fold.
The company has also developed an electric version of the flagship model Phantom, '102EX', to gauge consumer response to electric and hybrid luxury vehicles.
Chief Executive Officer, Rolls-Royce Motor Cars,
Torsten Muller Otvos
, tells
Sharmistha Mukherjee
he sees India as one of the top five markets for the company in three years. Edited excerpts:
Rolls-Royce sales grew six-fold here last year. How do you see the market for luxury cars developing in the country?
India is a major market for us in Asia, the second fastest growing geography worldwide after China. We could not cope with the demand last year and have a backlog in orders. We modified our production line and are expecting to sell over a 100 units in 2011.
India is traditionally linked with Rolls-Royce and the country today has the largest number of billionaires. There is a lot of dynamism in the economy. We have held discussions with dealers and are looking at expanding our operations. Two more sales outlets are likely to come up in Punjab and Hyderabad.
By when do you see India featuring among the top five markets for you, globally?
India is the seventh-largest market for us. North America, China and United Kingdom are ahead in terms of volumes. But we grew by 600 per cent last year. India would need to double volumes from the current levels
to feature among the top five markets for us. Considering the buoyancy in the economy, the rate at which investments are being made, that should happen over the next two to three years.
Rolls-Royce has been in India for over 50 years, how has the profile of your customers changed?
Earlier, mostly royal families bought our cars. Today, a lot of successful entrepreneurs own our cars. They are not necessarily celebrities, but people who have made something of their lives. The youngest customer for Rolls- Royce, in fact, is a 26-year-old-Indian.
How different are the levels of specifications made by customers in India for Rolls-Royce cars compared to global consumers?
We are not a sales volume driven company, we do not build cars for stock but according to customer specifications. Indian customers are very demanding in terms of the woodwork, the embroidery and colour combinations, the kind of partition walls, drinks cabinet, refrigerators etc.
We, in fact, import Malabar wood from the southern coast for some of our cars. There have been requests for mother-of-pearl inlaid work in interiors. There is a huge attention to detail and every car is done up uniquely.
How do you see competition?
Globally, we do not face any competition from any other luxury car manufacturer as there are no products in a similar price range. We do face competition from private jet makers, certainly helicopters, yatch and jewellery manufacturers.