In an interview with Ranju Sarkar, the founders of Stellaris Venture Partners -- Ritesh Banglani, Alok Goyal and Rahul Chowdhri -- share discuss their unique founder network and why they are bullish on India.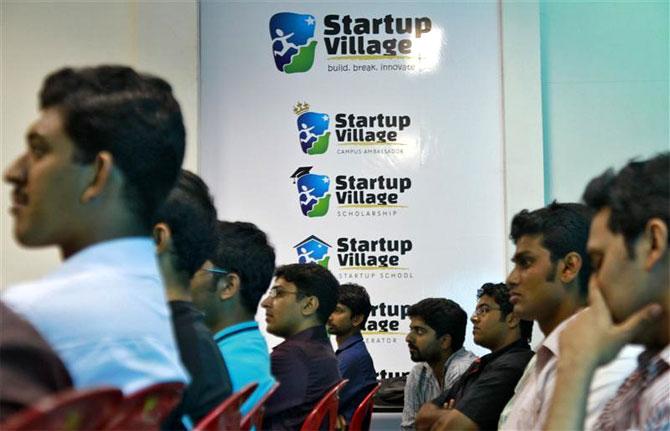 IMAGE: Stellaris Venture Partners backs

entrepreneurs looking to use technology to solve India-specific problems and

global software product businesses being created out of India.

Photograph: Sivaram V/Reuters.

Stellaris Venture Partners, founded by former Helion Venture hands Ritesh Banglani, Alok Goyal and Rahul Chowdhri, has raised $50 million to mark the first close of their $100-million fund.
The partners share how the founder network, which has committed a quarter of the money, is also helping them source and evaluate deals.
Edited excerpts.
What's the idea behind the founder's network? How is it different from the ones independently investing in start-ups?
ALOK: Stellaris has established a unique founder network, whose members include some of the most successful entrepreneurs, professionals and investors in India and abroad. We also have some of the best-known professionals in the country -- several senior partners of McKinsey and BCG, country heads of some of the largest global companies as well as some fund managers whose funds do not have any conflict with ours.
The founder network's members are key investors in the fund. 25 per cent of our fund size is contributed by successful entrepreneurs and professionals whom we see as strategic investors.
We have created a formal engagement programme to leverage their expertise during the entire investment cycle, including sourcing, diligence and portfolio management.
Already a significant part of our deal flow is coming from the founder network members and we have added them as co-investors in our portfolio companies.
What's the opportunity you see for an early-stage VC firm? What's the gap in the market you would like to exploit?
RAHUL: Our strategy is simple -- we look to back two kinds of companies.
One, entrepreneurs looking to use technology to solve India-specific problems.
Two, global software product businesses being created out of India.
We believe, technology creates discontinuous change and provides competitive advantages that are hard to replicate. Over the last decade, we saw our lives change because of the mass adoption of smartphones. Now with a combination of technologies such as IoT, data analytics and artificial intelligence, we stand at the cusp of multiple technology discontinuities simultaneously.
Our intent is to back 18-20 high-quality teams, and even though we will start with small cheques, we will keep strong reserves to back good entrepreneurs long over their lifecycle. We will look to invest up to $3 million in a company at the time of entry, but also keep significant reserves for follow-on investment.
Ideally, we will look to have 15-30 per cent stake in the companies we invest in. However, in a successful company, we may even go up to $10-15 million.
How easy or difficult was raising money for you?
ALOK: Raising funds is never easy, but we have been very fortunate to have some very high-quality institutional and individual investors. Fifty-plus entrepreneurs and business professionals have backed us.
We are also proud to have some very well-known family offices in India as well as outside the country.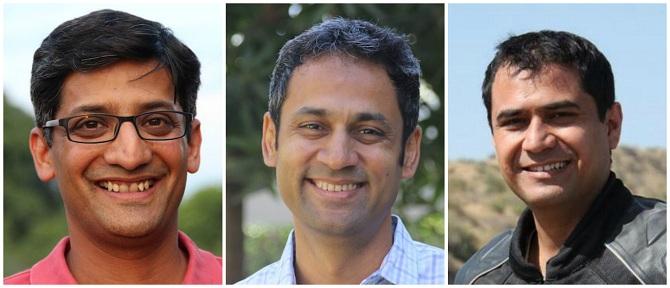 IMAGE: From left, Stellaris Venture Partners -- Alok Goyal, Rahul Chowdhri and Ritesh Banglani. Photograph: Courtesy StellarisVP.com.
Are you finding a dearth of investible start-ups... which have demonstrated proof of concept, path to profitability?
RITESH: Not at all. We truly believe that India is the best place globally for ventures over the next couple of decades. India is a very large market, many large sectors of the economy have not yet seen any substantial impact of technology and, therefore, waiting to be disrupted.
We think the next decade will be the golden period for start-ups. Our estimate is that we will see $500 billion of market cap created from technology eco-system in India
How have been exits for early-stage VC firms in India?
RAHUL: Like most things, their reactions have been mixed.
That said, a vast majority of global LPs today recognise that the outside of the United States and China, India is the only other market that has the scale and other ingredients to create venture-style returns. Most of them are, therefore, already invested, about to be invested or actively considering it in their investment committees.
As an industry, we are yet to prove ourselves in terms of exits. While there are some great examples of companies such as MMT, JD showing exits, we are only a 10-year old industry and a lot needs to be done.
Are there any LPs investing for the first time in India through Stellaris?
ALOK: Amongst both institutional investors and founder network members, there are many who are investing in India as an LP for the first time through Stellaris, and we are very proud of it.