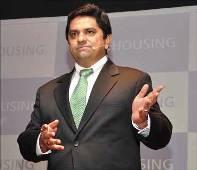 The realty arm of the Tatas has ventured into overseas markets with a project in the Maldives.

Brotin Banerjee, managing director and CEO of Tata Housing, shares the company's plans and strategy with Raghavendra Kamath.

Why are you looking at international markets when India faces a huge shortage of homes?

India does face a huge shortage of homes, but we are also looking for opportunities in neighbouring countries, in South Asian Association for Regional Co-operation region.

It may not always be in the affordable segment. It could be in premium and luxury segment.

For instance, a significant portion of the Maldives project is in luxury and high-end housing.

Are you planning to launch more projects overseas?

We are evaluating a couple of projects in Sri Lanka and plan to launch the same.

What are your plans for FY12?

We have 42 million sq ft under development and we would like to add another 20 million sq ft, many of which is in term-sheet stage.

We want to do four to five projects of around 15 million square feet in FY12 under Smart Value Homes, which develops houses under Rs 10 lakh (Rs 1 million) under Shubh Griha and New Heaven and sells apartments for Rs 12 to 25 lakh (Rs 1.2 to Rs 2.5 million).

How feasible it is to launch houses under Rs 10 lakh (Rs 1 million) in cities, when land prices and input costs are going up?

It is very difficult.

But you have to be innovative and use new technologies to keep the costs under control.

As far as increase in input costs are concerned, we have seen 15 to 20 per cent increase.

But when we enter into contracts, it includes price escalation clauses which factors in increases in input costs.

We are also hit by delays in approvals.

When we launched Shubh Griha in Bhoisar, it was Rs 1,450 a sq ft and in Vashind, it was Rs 1,600 per sq ft.

The new Shubh Griha projects will cost slightly more, but they will be under the Rs 10-lakh (Rs 10-million) category.

What is the result of rising interest rates and inflation?

We have not seen any impact on sales. We are growing at 110 per cent CAGR every year.

Last year, we have seen a growth and we are seeing similar trends this year. We used to sell 35-40 apartments a month earlier.

We continue to do that. The reason is that though the situation is worrisome, we are putting more efforts to derisk ourselves.

We have introduced new technology and innovations to keep costs under control and give better prices.

Will you revise the prices if the situation demands?

We will not correct prices. We have not corrected prices in the past because we have delivered even during the worst of times.
Image: Brotin Banerjee